MT-LB Light Armored Multi-purpose Vehicle

GENERAL DATA
MT-LB
Alternative Designations
MT-LB-T
Country of Origin
CIS (formerly USSR)
Role
Multi-role, including: APC, maintenance, prime mover for towed guns, command and control
Date Of Introduction
1970, modernized in 1995
Crew
2 (commander-gunner, driver) + 11 passengers
Combat Weight
13.1 tons (11.9 mt)
Ground Pressure
6.54 psi (0.46 kg/cm²) standard track. 3.98 psi (0.28 kg/cm²) wide track
Length, Overall
21.16 ft (6.45 m)
Width, Overall
9.35 ft (2.85 m)
Height, Overall
6.14 ft (1.87 m)
Ground Clearance
15.7 in (400 mm)
PERFORMANCE
MT-LB
Engine
240 hp (179 kw) diesel. 290 hp (216 kw) diesel modernized
Range
311 miles (500 km)
Fuel Capacity
119 gal (450 l)
Road Speed
38 mph (61.5 km/h). 43.5mph (70 km/h) modernized
Cross Country Speed
?
Swim Speed
3.1-3.7 mph (5-6 km/h)
Fording Depth
Amphibious
Grade
60%
Side Slope
40%
Trench Crossing
8.9 ft (2.7 m)
Vertical Wall Climb
2.3 ft (0.7 m)
PROTECTION
MT-LB
Armor
Turret front: 0.28-0.55 in (7-14 mm)
Applique Armor
N/A
Explosive Reactive Armor
?
Active Protective System
N/A
NBC Protection System
Collective
Smoke Equipment
N/A
ARMAMENT

MT-LB
Type
Mount
Typical Ammo Load
7.62mm PKT machine gun
Turret; belt-feed
2,000.
Light Ball, Ball-T, API, API-T, Incendiary
Firing ports: 1 on each side and 1 in each rear door

FIRE CONTROL
MT-LB
Fire Control System
?
Main Gun Stabilization
N/A
Rangefinder
N/A
Infrared Searchlight
N/A
NOTES
The MT-LB is a multipurpose soft-terrain vehicle that can be used as an APC or command vehicle, a prime mover for various types of artillery, and a cargo and general transport vehicle.

The MT-LB is an amphibious armored tracked vehicle with a hull made of welded steel plates. The vehicle has a two-man crew consisting of the driver and commander-gunner and is lightly armed and lightly armored.
VARIANTS
Russian AG-17 30-mm automatic grenade launcher modification is available for use on MT-LB.
Russian KBP offers a drop-in one-man turret, called Kliver, with a stabilized 2A72 30-mm gun, a 4 Kornet ATGM launcher, thermal sights, and improved fire control system.
---
MT-LB

1970. Original production model. See data above.

Recognition features:

Tracked vehicle.
Six evenly spaced road wheels with no support rollers.
Low silhouette.
Cone-shaped turret on right front.
Sloping sides and front; vertical back.
Boat-shaped hull.
Engine hatch on top of nose.
Two large square doors in rear that have one firing port each.
Two additional, forward-opening, troop exit hatches located on the flat hull roof.
Driver left front.

MT-LB Upgrade

1995 modernization upgrade includes improved steering and a new engine. See data above.

MT-LB "blade"

Dozer version with a blade attached to the vehicle.

MT-LBu

Expanded variant for artillery command and reconnaissance vehicles (ACRVs) and other uses.


Finnish Defence Forces Photo

800x533, 121K, JPEG

Finnish Defence Forces Photo

800x533, 157K, JPEG

Finnish Defence Forces Photo

800x533, 144K, JPEG

MT-LBV

Arctic variant with 0.57m wide track for snow and improved flotation.


MT-SON

Ground surveillance radar vehicle with Pork Trough/SNAR-2 radar.

MTP-LB

Technical support vehicle for repair and recovery.

SA-13

SNAR-10

Ground surveillance radar vehicle with Big Fred radar.


Modified MT-LB chasis.
Large D-shaped turret mounted at rear of hull.
Turret has 2 "levels."
"Box" on right side of hull below turret - exhaust.

800x599, 174K, JPEG

122mm self-propelled howitzer derivative.

9P149/Shturm-S

ATGM launcher vehicle with AT-6 autoloader.

Vasilek

82mm self-propelled mortar derivative. The AM 2B9 Vasilek is an automatic mortar that fires four-round clips with an effective rate-of-fire of 20 to 30 rounds per minute and a cyclic rate-of-fire of 60 to 120 rounds per minute out to 5,000 meters. The self-propelled version was first seen in Afghanistan in a two-gun firing battery.

MT-LB Photos - Click on image sample to see full size image.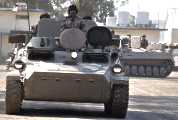 Iraqi MT-LB
Iraqi Army Day parade
Taji Military Training Base
06-JAN-2005
MNSTC-I Photo by U.S. Air Force TSgt. Andrew Hughan
450x294, 26K, JPEG