M1126 Stryker Infantry Carrier Vehicle

GENERAL DATA
M1126 ICV
Alternative Designations
Interim Armored Vehicle (IAV), Medium Interim Armored Vehicle (MIAV)
Country of Origin
Canada
Role
Armored personnel carrier
Date Of Introduction
2002
Crew
2 (commander, driver) + 9 passengers
Combat Weight
20.41 tons (18.51 mt)
Ground Pressure
29.15 psi (2.05 kg/cm²)
Drive Formula
8 x 8
Length, Overall
23.78 ft (7.25 m)
Width, Overall
9.33 ft (2.84 m)
Height, Overall
10.36 ft (3.16 m)
Ground Clearance
21 in (533 mm)
PERFORMANCE
M1126 ICV
Engine
Caterpillar 3126 350 hp (261 kw) in-line, six cylinder diesel
Transmission
Allison MD3066P. 6 speed forward, 1 speed reverse
Range
330 miles (531 km)
Fuel Capacity
53 gal (200 l) JP-8/diesel
Road Speed
63 mph (101 km/h)
Cross Country Speed
40 mph (64 km/h)
Swim Speed
N/A
Fording Depth
4.42 ft (1.35 m)
Grade
60%
Side Slope
30%
Trench Crossing
6.5 ft (1.98 m)
Vertical Wall Climb
2.0 ft (0.61 m)
PROTECTION
M1126 ICV
Armor
High hardness steel hull to defeat 7.62mm ball.
MEXAS composite/ceramic module bolted to hull structure to defeat 14.5mm ball.
Anti-mine undercarriage armor. Spall liners.
Applique Armor
Slat armor protection against RPGs.
Hull Protection Kit (HPK).
Explosive Reactive Armor
Stryker Reactive Armor Tiles (SRAT)
Active Protective System
N/A
NBC Protection System
Ventilated face mask system.
Smoke Equipment
4 four-barrelled M6 smoke dischargers.
ARMAMENT

M1126 ICV
Kongsberg M151 Protector Remote Weapon Station with one of the following:
Type
Mount
Typical Ammo Load
.50 cal M2HB machine gun
External turret mount; belt feed
Ready: 200. Stowed: 2,000.
Ball, tracer, armor-piercing, incendiary, SLAP.
MK19 Mod 3 40mm grenade machine gun
External turret mount; belt feed
Ready: 32. Stowed: 430.
High-Explosive Dual-Purpose, High-Explosive.
Additional armament: The ICV squad's weapons (rifles, grenade launchers, light machine guns, anti-tank rockets) can be fired from the vehicle or dismounted and fired from a ground position.

FIRE CONTROL
M1126 ICV
Fire Control System
Computerized Fire Control Unit (FCU), Visual Imaging Module (VIM) day sight, Thermal Imaging Module (TIM) night sight
Main Gun Stabilization
None
Rangefinder
STORM LRF (Small Tactical Optical Rail Mounted Laser Range Finder)
Infrared Searchlight
Variable Infrared Illuminator
NOTES
The Stryker is a family of eight-wheel drive combat vehicles being built for the U.S. Army by GM GDLS, a joint venture of General Motors Defense of Canada and General Dynamics Land Systems Division of the USA. The Stryker is designed for use over all types of roads and cross-country terrain, in either 8x8 or 8x4 mode in all weather conditions.
Common Features:
Ability to easily shift from four-wheel drive for highway driving, to eight-wheel drive for cross-country.


Equipped for operation in hot and cold climatic conditions.


Blackout driving system for night operation, including Driver's Vision Enhancer (DVE). Periscopes are equipped with a cover for use in blackout operation and are treated to protect against laser beams.


Wire cutters mounted on vehicle to prevent injury to crew from wires when operating in open hatch position.


Vehicle can operate with all hatches closed for crew protection in combat.


Front and rear towing lugs that allow a disabled Stryker to be towed with drive train (transfer case) disconnected.


Power assisted steering system with hydraulic backup system.


Pneumatic service brake system protected by a Pressure Protection Valve (PPV) against brake failure resulting from air pressure loss in auxiliary system.


Heating/ventilating systems for comfort of personnel.


Steel-belted tires with run-flat liners will allow vehicle to be driven up to 25 miles (40 km) at speeds up to 30 mph (50 km/hr) with up to any 4 tires flat, or 5 miles (8 km) with more than 4 or all tires flat. Driving the vehicle more than 5 miles (8 km) on flat tires may cause tires to catch on fire.


Automatic Fire Extinguishing System (AFES) in engine and crew portable extinguishers mounted in front and rear of vehicle.


Chemical and radiological defense and warning system.


Side-mounted hydraulic winch for recovery operations, with 21,000 lb (9,525 kg) pulling capacity.


External tool and equipment stowage compartments which can be padlocked. Canvas straps with buckles are provided for securing internal and external stowed items.


Ramp located at rear of vehicle allows for rapid mounting and dismounting of troops. The Ramp can also be used as a tailgate.
ARMOR
Integral Armor
The vehicle's high hardness steel hull provides ballistic protection against 7.62mm M80 NATO ball ammunition. A Modular Expandable Armor System (MEXAS) composite/ceramic module bolted to the hull structure provides ballistic protection against 14.5mm ball ammunition and 152mm artillery air burst.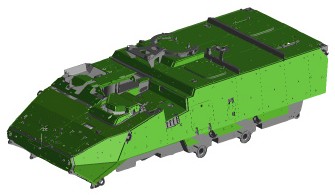 ---
Slat Armor
Slat armor is designed to protect vehicle crew/squad members from hand-held antitank weapons. Blast plates of 0.25 inch thick rolled homogenous armor (RHA) are fastened to the upper sides of the vehicle to support existing stowage racks and the mounting brackets for the slat armor. Spaced steel slats are positioned parallel to the ground with a built-in standoff distance of 10 inches from the vehicle surface and any stowed items. The slats are fabricated of steel bars spaced a nominal 2.5 inches apart.
Slat armor increases the length of the Stryker by 1 1/2 feet and the width by 1 1/2 feet. For highway operations, tires must be inflated to 95 psi and vehicle speed must not exceed 45 mph.

U.S. Army Photo
1024x1024, 284K, JPEG
---
Hull Protection Kit (HPK)
Add-on armor skirts to provide additional protection from improvised explosive devices (IEDs).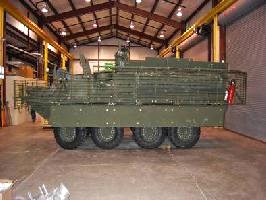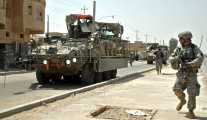 U.S. Army Photo
2100x1500, 398K, JPEG
---
Stryker Ballistic Shield
Lightweight (145 lb, 66 kg) cupola mounted ballistic titanium protection with armored windows.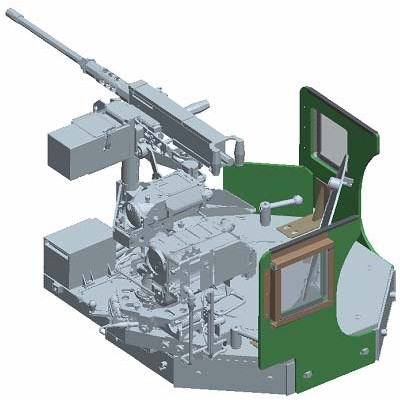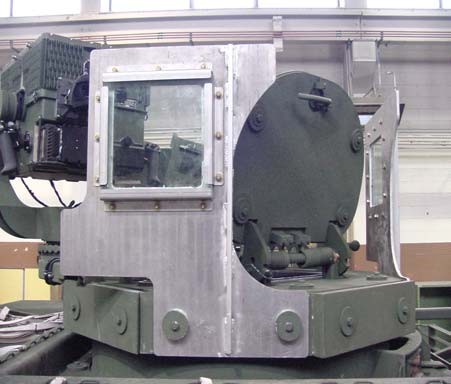 ---
M20-M31 Stryker Reactive Armor Tiles (SRAT)
An armor kit consisting of explosive reactive armor tiles and passive tiles. Provides enhanced armor protection against rocket propelled grenade (RPG) ammunition. Designed to replace slat armor in theatre.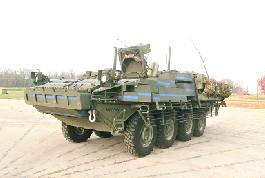 VARIANTS
The Stryker family of vehicles is based on the GM LAV III 8 x 8 light armored vehicle, in service since early 2001. The LAV III is itself a version of the Piranha III built by Mowag of Switzerland.
The Stryker has two basic variants - the Infantry Carrier Vehicle (ICV) and the Mobile Gun System (MGS). The ICV has eight additional configurations: Mortar Carrier (MC), Reconnaissance Vehicle (RV), Commander's Vehicle (CV), Fire Support Vehicle (FSV), Medical Evacuation Vehicle (MEV), Engineer Squad Vehicle (ESV), Anti-Tank Guided Missile (ATGM), and NBC Reconnaissance Vehicle (NBCRV).
---
Variant Configuration Weights (pounds)
Variant
Combat Weight
1
1" Slat Armor
2A
2" Slat Armor
2B
SRAT
3
DEK
4
CBS
5
HPK
6
Current OIF
1+2A+4+5
OIF + HPK
1+2A+4+5+6
M1126 ICV
40,815
3,005
4,812
8,825
970
1,459
4,000
46,249
50,249
M1127 RV
40,119
3,050
4,858
8,841
970
1,080
4,000
45,219
49,219
M1128 MGS
47,596
1,842
970
4,000
50,408
54,408
M1129 MCV-B
42,787
3,300
970
544
4,000
47,601
51,601
M1130 CV
39,399
3,003
4,806
8,829
970
1,573
4,000
44,945
48,945
M1131 FSV
38,971
3,000
4,856
8,841
970
1,080
4,000
44,021
48,021
M1132 ESV
41,986
3,034
5,230
970
1,308
4,000
47,298
51,298
M1133 MEV
39,913
3,460
5,399
970
506
4,000
44,849
48,849
M1134 ATGM
41,090
3,000
4,807
8,836
970
864
4,000
45,924
49,924
M1135 NBCRV
42,704
2,760
4,000
45,464
49,964
SRAT: Stryker Reactive Armor Tiles. DEK: Driver's Enhancement Kit. CBS: Common Ballistic Shields. HPK: Hull Protection Kit. OIF: Operation Iraqi Freedom.
Stryker driveline verified for 42,000 lb gross vehicle weight.
Operation at or below suspension/driveline nominal design load.
Operation above verified load.
Degraded mobility. Durability unknown.
---
M1126 Infantry Carrier Vehicle - ICV (NSN 2355-01-481-8575)

2002. Unit cost: $1,411,000 (FY 2005). See data above.

The Infantry Carrier Vehicle (ICV) carries an infantry squad with individual equipment. The ICV also provides protected transport and supporting fires for the infantry squad during dismounted assault. The ICV is the common chassis and contains all the common characteristics of the Stryker family of vehicles.







U.S. Army Photos

U.S. Army Photo

1200x678, 1132K, PNG

M1127 Reconnaissance Vehicle - RV (NSN 2355-01-481-8570)

Unit cost: $1,292,000 (FY 2005).

The Reconnaissance Vehicle (RV) provides force situational awareness, gathering and transmitting real time intelligence while moving throughout the battlefield in close, complex, and urban terrain. The vehicle's primary weapon is an externally mounted M2HB .50 caliber machine gun or MK 19 40mm grenade machine gun.

The RV is designed to accommodate a crew of seven: Vehicle commander, driver, squad leader, and four squad members.



U.S. Army Photo

798x528, 342K, PNG

M1128 Mobile Gun System - MGS (NSN 2355-01-481-8577)

2006. Unit cost: $3,600,000 (FY 2005).

The Mobile Gun System (MGS) supports dismounted infantry and engages the enemy in close combat in order to clear opposition and permit rapid movement allowing the force to maintain the initiative, occupy and/or secure key objectives, and defeat strong points.

The MGS is used to create entry points in buildings, destroy bunkers, provide suppressive fire for infantry, and defeat light to medium armor threats. The ammunition handling system is capable of handling any 105mm NATO standard ammunition. Capable of storing 18 primary armament rounds in a ready configuration with a cyclic rate of 10rds/min. The fired cartridge is ejected overboard.

The vehicle's primary weapon is a M68A1E4 105mm main gun with mounted muzzle reference sensor (MRS) capable of traversing a full 360° under power at an adjustable rate of 20° to 45° per second. Capable of powered elevation at a rate of 45° per second. The vehicle's secondary weapons are the M240C 7.62mm coaxial machine gun and the vehicle commander's externally mounted M2HB .50 caliber machine gun. The MGS is designed to accommodate a crew of three: Vehicle commander, driver, and gunner.



M1129 Mortar Carrier - MC, MCV, MCV-A, MCV-B, MC(B) (NSN 2355-01-481-8571)

Unit cost: $1,273,000 (FY 2005).

The Mortar Carrier (MC) supports infantry units with screening obscurants, suppressive forces and on-call supporting fires. 120mm, 81mm, and 60mm mortars provide complimentary capabilities with responsive, accurate and lethal indirect fire support to the dismounted infantry assault. The vehicle also features a 7.62mm M240B machine gun attached to a skate mount on the vehicle roof forward of commander's station.

The initial MCV-A carried the M121 120mm mortar which had to be dismounted to fire. The MCV-B block improvement can fire an internally mounted Soltam RMS6-L 120mm Recoil Mortar System. The vehicle carries a crew of five: Squad leader, driver, ammunition bearer, gunner, and assistant gunner.



M1130 Commander's Vehicle - CV (NSN 2355-01-481-8573)

Unit cost: $1,346,000 (FY 2005).

The Commander's Vehicle (CV) provides the brigade commanders and infantry battalion commanders with the means to receive information and data, analyze, prepare and transmit data, and control the forces/functions carrying out combat missions.

The Commander's Vehicle is employed in five different configurations to meet the needs at various command levels: Brigade Commander CV, S3 TAC CV, RSTA Squadron Commander CV, Battalion Commander CV, Battalion S3 CV.

The vehicle's primary weapon is a Remote Weapons Station mounted on the roof in front of the vehicle commander's hatch. The CV is designed to accommodate a crew of five: Vehicle commander/targeting station operator, driver, primary commander/staff officer (PC/SO), and two workstation operators.

M1131 Fire Support Vehicle - FSV (NSN 2355-01-481-8574)

Unit cost: $1,278,000 (FY 2005).

The Fire Support Vehicle (FSV) provides automated enhanced surveillance, target acquisition, target identification, target tracking, target designation, position location, and communications functionality. Targets will be transmitted instantly to the fire support system and shooter.

The vehicle's primary weapon is a power assisted cupola mounting a M2HB .50 caliber machine gun or MK 19 40mm grenade machine gun. The FSV is designed to accommodate a crew of four: Vehicle commander/targeting station operator, driver, operation mission specialist, and one additional crewmember.



U.S. Army Photo

639x455, 331K, PNG

M1132 Engineering Squad Vehicle - ESV (NSN 2355-01-481-8570)

Unit cost: $2,133,000 (FY 2005).

The Engineer Squad Vehicle (ESV) is designed to provide the necessary mobility, protection, firepower and communications equipment to enable commanders of engineers to breach minefields and similar obstacles using Surface Mine Plow (SMP) or the Angle Mine Plow (AMP), while simultaneously marking a safe lane through the minefield using the Lane Marking System (LMS). Additionally the ESV employs the Magnetic Signal Duplicators (MSD) setting off magnetic, proximity and seismic explosives. The ESV tows the Mine Clearing Line Charge (MICLIC) giving units an instant breach capability.

If the Mine Roller (MR) is installed, the ESV is used to proof routes and proof lanes in minefields or similar obstacles. If the Straight Obstacle Blade (SOB) is installed, the ESV has the ability to clear urban rubble, sand, soil, and improvised barricades, remove light and medium weight vehicles from roads and tracks, undertake light earth-moving, fill ditches, and clear vegetation up to medium size trees (6 inches in diameter).

The vehicle's primary weapon is a Remote Weapons Station mounted on the roof in front of the vehicle commander's hatch. The CV is designed to accommodate a crew of eleven: Vehicle commander, driver, squad leader, and eight squad members.



U.S. Army Photo

670x350, 325K, PNG

M1133 Medical Evacuation Vehicle - MEV (NSN 2355-01-481-8580)

Unit cost: $1,228,000 (FY 2005).

The Medical Evacuation Vehicle (MEV) is the Battalion Aid Station for brigade units, providing treatment for serious injury and advanced trauma cases.

The ICV Remote Weapon Station has been replaced with a Smoke Grenade Launcher (SGL) system. The upper sidewalls have been changed from the ICV common angle to the vertical position to provide additional space for the litter-borne patients. In addition, the roof has been raised approximately 10 inches to provide better access to the top litter patients. The MEV patient compartment has stowage provisions for emergency medical equipment, medical supplies and accommodations for up to 6 ambulatory patients, 4 litter patients, or a combination of 2 litter patients with either 4 or 2 ambulatory patients. The patient compartment can be configured to transport patients in four different combinations. The MEV carries a crew of three: Vehicle commander, driver, and medical attendant.



U.S. Army Photo

791x553, 360K, PNG

M1134 Anti-Tank Guided Missile - ATGM (NSN 2355-01-481-8576)

Unit cost: $2,217,000 (FY 2005).

The Anti-Tank Guided Missile Vehicle (ATGM) is the brigade's primary tank killing system. The ATGM reinforces the brigade's infantry battalion, reinforces the brigade reconnaissance squadron, and provides long-range direct fires.

The vehicle's primary weapon is an Elevated TOW System (ETS) with a twin Tube-launched, Optically tracked, Wire-guided missile (TOW) launcher. The ETS consists of an elevating mast with a ballistic protected platform that supporting the missile launcher, components of the Modified Improved Target Acquisition System (MITAS) to include thermal and day vision systems and a laser range finder. The ETS is controlled from the gunner's station. The ETS has 360° field of traverse and -20° to +30° range in elevation and depression. The vehicle's secondary weapon is the vehicle commander's externally mounted M240B 7.62mm machine gun. The ATGM carries a crew of four: Vehicle commander, driver, gunner, and loader.



U.S. Army Photo

794x511, 309K, PNG

M1135 Nuclear, Biological, Chemical Reconnaissance Vehicle - NBCRV (NSN 2355-01-481-8579)

Unit cost: $2,976,00 (FY 2005).

The Nuclear, Biological, Chemical Reconnaissance Vehicle (NBCRV) provides on the move and remote near-real-time nuclear, biological and chemical detection and surveillance to supply battlefield visualization of NBC hazards.

The vehicle integrates the latest NBC sensors, a digital analysis communications system, and a new meteorological sensor. These NBCRV major components automatically integrate contamination information with data received from other on-board systems into situational awareness information provided to FBCB2. FBCB2 is then used to transmit hazard and clear area intelligence to supported commander(s) through digital communications.

The vehicle's primary weapon is a Remote Weapons Station mounted on the roof in front of the vehicle commander's hatch. The NBCRV is designed to accommodate a crew of four: Vehicle commander, driver, surveyor, and assistant surveyor.



U.S. Army Photo

789x603, 424K, PNG