XM8 5.56mm Carbine

TECHNICAL DATA
XM8
Alternative Designations
XM8 5.56mm Modular Assault Weapon System, XM8 5.56mm Lightweight Carbine, OICW (Objective Individual Combat Weapon) Increment I
Country of Origin
USA
Cartridge
5.56 x 45mm NATO
Weight
6.4 lb (2.9 kg) - prototype
5.7 lb (2.6 kg) - objective
Length
33.0 in (838 mm) - carbine stock extended
Stock
Five adjustable positions for length
Barrel Length
12.5 in (317.5 mm) - carbine
9.0 in (228.6 mm) - compact
20.0 in (508 mm) - sharpshooter
20.0 in (508 mm) - automatic rifle
Barrel Rate of Twist
1 in 7 in (177.8 mm)
Magazine Capacity
10 or 30 rounds (can nest magazines together), 100 round drum available
Performance
Rate of Fire
Cyclic: 750 rpm
Sustained: 85 rpm up to 210 rounds
Muzzle Velocity
2948 fps (899 mps) with 20 in barrel
2653 fps (809 mps) with 12.5 in barrel
2401 fps (732 mps) with 9.0 in. barrel
Sights
Reflex sight with fused IR illuminator and pointer.
DESCRIPTION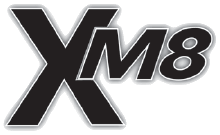 The XM8 Modular Assault Weapon fires 5.56 x 45 mm NATO ammunition. Different barrels and modules can be swapped quickly depending on tactical situations.
The XM8 is the first increment of the Objective Individual Combat Weapon (OICW) Program. The XM8 represents the state-of-the-art technology for 5.56mm assault weapons.
The XM8 is a multi-configurable weapon that has four variants: a baseline assault weapon, a special compact, a designated marksman, and a light machine gun. To meet changing mission requirements, these variants are easily and quickly reconfigured at the unit level with the use of interchangeable assembly groups such as barrel, handguard, buttstock modules and sighting systems.

The XM8 Assault Weapon System is lighter than a comparably equipped M4 Carbine Modular Weapon System (MWS) with improved features and performance unavailable in the current M4. The XM8 will have increased reliability and decreased logistic costs.
Design goals:
Increased reliability - capable of firing 20,000 rounds without stoppages or malfunction.
Cost effective - 1/3 less than cost of current base weapon system.
Weight reduction - 30% weight reduction objective vs the current weapon system.
Longevity - increased over the current weapon system.
Less training - Soldiers trained in 1/3 the time.
Highly functional - quick and easy interchangeable parts for changing missions.
Multi-functional - three variants: one weapon family.
The U.S. Army is currently evaluating candidates for production. If approved, the Army could field 900,000.
FY2007 procures the initial OICW weapons for production qualification testing (PQT) and begins fielding the weapon to select Brigade Combat Teams (BCT's). Full and open competition to select a contractor to continue RDTE (Research, Development, Test and Evaluation) will be conducted. Low Rate Initial Production (LRIP) option of the competitive RDTE contract will be awarded in FY 2008. FY 2009 through FY 2011 will be awarded as options. The contract will be competed in FY 2012 or sooner depending upon negotiation to obtain technical data rights. It is expected that the data rights will be owned by the Government after the FY 2010 buy.
EQUIPMENT
Bayonet: 12.5" and 20" barrels.
Bipod: 20" barrel only.
XM320 Grenade Launcher Module: Side loading 40mm grenade launcher.
Modular Accessory Shotgun System.
VARIANTS
Baseline Carbine, Assault Weapon





12.5" barrel.
Common modular assemblies.
Integrated reflex optic with IR pointer and illuminator.
Can be equipped with XM320 side loading 40mm grenade launcher.

Compact Carbine




9" barrel.
Butt cap receiver cover or folding stocks.
Personal defense applications.

Sharpshooter, Designated Marksman, Sniper Rifle




20" barrel.
Magnified optical sight.

Automatic Rifle, Light Machine Gun




Heavy 20" barrel for sustained fire.
Integral folding bipod.
100-round drum magazine.
Magnified optical sight.
AMMUNITION
Ammunition for the XM8 is issued in the form of a complete 5.56 x 45 mm round. A complete round (cartridge) consists of all the components (cartridge case, bullet, propellant powder, and primer) necessary to fire the weapon once.
Click here for more ammunition information.
XM8 Photos - Click on image sample to see full size image.