T-72 Main Battle Tank

GENERAL DATA
T-72M1
T-72B
Alternative Designations
Russian T-72A
T-72S (export), SMT (Soviet Medium Tank) M1988
Country of Origin
Poland, Czech Republic
CIS (formerly USSR)
Role
Main battle tank
Date Of Introduction
1975
1985
Crew
3 (commander, gunner, driver)
Combat Weight
45.7 tons (41.5 mt) without ERA
49.1 tons (44.5 mt)
Ground Pressure
11.81 psi (0.83 kg/cm²)
12.8 psi (0.90 kg/cm²)
Length, Overall
31.27 ft (9.53 m)
Length, Hull
22.8 ft (6.95 m)
Width, Overall
11.78 ft (3.59 m)
Width, No Skirts
11.06 ft (3.37 m)
Height, Without AA MG
7.32 ft (2.23 m)
Ground Clearance
19.3 in (490 mm)
PERFORMANCE
T-72M1
T-72B
Engine
780 hp (582 kw) V-12 diesel
840 hp (626 kw) air-cooled V-12 diesel
Range
286 miles (460 km). 435 miles (700 km) with external tanks
311 miles (500 km). 559 miles (900 km) with external tanks
Fuel Capacity
317 gal (1,200 l)
?
Road Speed
37 mph (60 km/h)
Cross Country Speed
22 mph (35 km/h)
Swim Speed
N/A
Fording Depth
3.9 ft (1.2 m) unprepared. 16.4 ft (5.0 m) with snorkel
PROTECTION
T-72M1
T-72B
Armor
Turret front: 19.7 in (500 mm). 22 in (560 mm) against HEAT
Turret front: 20.5 in (520 mm). 37.4 in (950 mm) against HEAT
Applique Armor
Side of hull, over track skirts, and on turret top
Explosive Reactive Armor
1st or 2nd Generation ERA available
Kontakt or Kontakt-5 ERA
Active Protective System
Arena or Drozd available
Arena available
NBC Protection System
Yes
Smoke Equipment
Vehicle engine exhaust smoke system. Six 81mm smoke grenade launchers on each side of turret
Vehicle engine exhaust smoke system. Eight 81mm smoke grenade launchers on left side of turret
ARMAMENT

T-72M1
Type
Mount
Typical Ammo Load
125mm 2A46M/D-81TM smoothbore gun
Turret; auto and manual loading
44.
APFSDS-T, HEAT, Frag-HE
7.62mm PKT machine gun
Coaxial to main gun
2,000
12.7mm NSVT AA machine gun
Turret top
300

T-72B
Type
Mount
Typical Ammo Load
125mm 2A46M/D-81TM smoothbore gun
Turret; auto and manual loading
39.
APFSDS-T, HEAT, Frag-HE
AT-11 anti-tank guided missiles.
SACLOS; infrared laser-beam rider
Gun-launched
6.
AT-11, AT-11B
7.62mm PKT machine gun
Coaxial to main gun
2,000
12.7mm NSVT AA machine gun
Turret top
300

FIRE CONTROL
T-72M1
T-72B
Fire Control System
?
1A40-1
Main Gun Stabilization
2E28M, 2-plane
2E42-2, 2-plane
Rangefinder
TPD-K1 laser
TPD-K1M laser
Infrared Searchlight
Yes
NOTES
The T-72's all-welded hull is divided into three main compartments with the driver at the front, fighting compartment in the center, and the engine and transmission at the rear. The tank commander and gunner sit in the turret with the commander on the right and the gunner on the left.
The turrets of older former Soviet Union tanks rotate much slower than those on US and NATO tanks. It takes more than 21 seconds for T-70-series tank turrets to rotate through a full 360°.
The T-90-series tank turrets can rotate a full 360° in just 6 seconds, which is as fast as the US M1 Abrams and M2 BFV.

Recognition features:
Six large evenly-spaced road wheels on each side with the drive sprocket at the rear, idler at the front and three return rollers.
Two optional drum-type fuel tanks that can be fitted to the vehicle for an increased operational range.
An unditching beam carried at the rear.
A snorkel for deep fording that is carried on the left side of the turret to the rear.
A commander's cupola with a periscope and an infrared searchlight on each side.
A gunner's hatch mounted with two observation periscopes. An infrared searchlight is mounted in front and to the left of this hatch along with a laser rangefinder.
Another infrared searchlight mounted on the right side of the main armament.
A single loader's hatch to the right of the turret with a periscope that can operate to the front or rear.
A driver's single hatch cover, in front of which is a wide-angle observation periscope.
Two light-steel stowage boxes mounted on the turret, one at the rear and the other on the right.
Integrated fuel, oil and storage containers along each side of the hull that give the fenders a streamlined shape.
An oil cell and stowage boxes on the top left side of the hull.
Four removable armored skirt plates fitted over the forward part of the track for additional protection.
A dozer blade mounted under the nose.
A searchlight and infrared headlamp mounted to the rear of the deflector, on the right side.
Turret rails.
A box-like radiation detector/actuator mounted on the right side of the turret behind the compressed air tanks.
A blower mounted at the rear of the turret.
A sharply-sloped glacis made of a new laminate armor 200mm thick and a V-shaped water and debris deflector mounted to the glacis plate.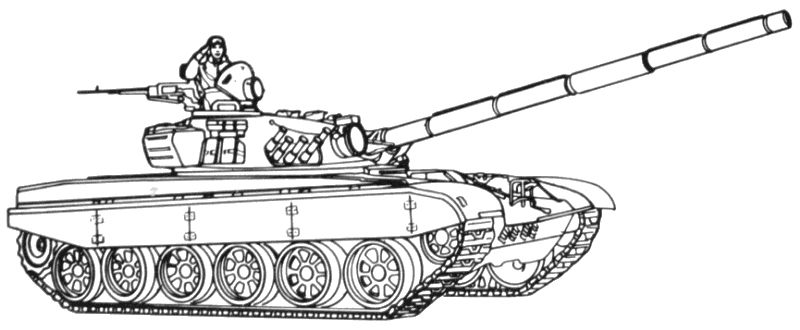 VARIANTS
Since the Soviet-built T-72 entered production, many improvements have been made to the vehicle, making it difficult to distinguish individual versions of the tank. Improvements include: Increased protection, better mobility, and enhanced firepower.
Note that some countries have inventories of T-72, T-72M, and T-72M1 with different versions of each variant. Also, many variants were upgraded or modified. Some T-72M1s do not have smoke grenade launchers or track skirts. Some T-72s/T-72Ms have smoke grenade launchers. More reliable discriminators are armor and rangefinder/FCS.
A variety of thermal sights are available. They include the Russian Agava-2, French SAGEM-produced ALIS and Namut sight from Peleng.
Optional mine-clearing equipment is available.
---
T-72

Original production model. Recognition features:

Fully tracked.
Six large die-cast, evenly spaced road wheels with three support rollers.
Sharply sloped upper glacis with V-shaped splash guard.
Rounded turret mounted midway on tank.
Single snorkel mounted on left side of turet.
Engine exhaust on top of back deck.
Bore evacuator 1/3 way from muzzle.
Infrared light to right of main gun.
New design turret machine gun; no provision for firing from within tank.
Integrated fuel cells and storage containers, giving streamlined appearance to fenders.

T-72M

Original Polish and former-Czechoslovakian T-72-series tank from which Polish/Czechoslovakian T-72M1 was derived. T-72M differs from T-72 in replacing the right-side coincident rangefinder with a centerline-mounted TPDK-1 LRF.

T-72A

An improved version of the basic T-72. Overall, its offensive capabilities are similar to the basic T-72, but it is much better protected.

The Russian variant differs from T-72 with the TPDK-1 LRF, added track skirts, additional armor on the turret front and top, provisions for mounting reactive armor, smoke grenade launchers, internal changes, and a slight weight increase.

Version with Kontact ERA is known as T-72AV.

The Russian export version and Polish/Czechoslovakian counterparts are called T-72M1. See data above.

Version with Kontact ERA is known as T-72M1V.


T-72AK/T-72M1K

Commander's variant with additional radios.

T-72AM/Banan

Ukrainian T-72A upgrade with ERA, a new engine, and additional smoke grenade launchers. The T-72AG upgrade has a 1200-hp engine, Shtora-1 ATGM jammer, and 1G46 (T-80U) FCS with thermal night sights.

T-72B

See data above. The T-72B is the second main variant from the original Russian T-72 tank (after T-72A). The T-72B's 1K13-49 sight is both night sight and ATGM launch sight. However, it cannot be used for both functions simultaneously. Thermal gunner night sights are available which permit night launch of ATGMs.


T-72B1

Variant introduced in 1986 without ATGM launch capability.

T-72BK

Commander's variant with additional radios.

T-72BM

Version with Kontakt-5 explosive reactive armor. This system is being fielded and is available for export.

T-72M1M

T-72M1 variant upgraded to T-72B standard.

T-72M2/Moderna

Slovakian T-72M upgrade with new engine and fire control, SFIM thermal sight, laser warning receiver, ERA, and 2 x 20mm AA guns on turret

T-72M4CZ

Czech variant with TURMS FCS with thermal sight, new engine, increased protection ERA, and 48t weight. T-72M3CZ is a less radical upgrade - for instance the existing engine is modified.

T-72MP

Ukrainian upgrade with a 1,000-hp engine, added armor, Shtora-1, and SAGEM FCS and thermal sights.

M-84

1984. Serbian (former Yugoslavia) tank upgraded to T-72M1 standard, but with indigenous sights. With an upgraded V-46-6TK 985 hp (735 kW) engine, the tank is M-84A. With a new SUV-M-84 computerised fire-control system, gyrocompass, communication, and intercom systems the tank is M-84AB. The M-84 ABI armored recovery vehicle variant is fitted with specialised recovery equipment.

A Croatian improved version of M-84 is M-84A4/Sniper, with improved fire control and thermal night sights. A Slovenian upgrade uses the state-of-the-art and the well-marketed EFCS-3 FCS.



T-72S/Shilden

Russian export T-72A upgraded to be comparable to the T-72BM standard. Although similar to the T-72BM, it may have less turret front protection. The early T-72S tank has Kontakt ERA.

PT-91/Twardy

Polish upgrade of the T-72M1 tank with ERA, laser warning receiver, smoke grenade launchers, and Tiger fire control system. Sights include a thermal gunner night sight.


T-90

Successor to T-72BM. This tank has been tentatively approved for production and adoption as a standard tank, alongside the T-80U, for the Russian army. The T-90 uses the gun and 1G46 gunner sights from T-80U, a new engine, and thermal sights. Protective measures include Kontakt-5 ERA, laser warning receivers, and the SHTORA infrared ATGM jamming system.

BREM-1 Armored Recovery/Repair Vehicle (ARRV)

This ARRV is equipped with a hydraulic crane, capable of lifting 12 tons, mounted at the front of the hull on the left side. Other equipment includes a main winch with a capacity of 25 tons that can be increased to 100 tons, an auxiliary winch, a hydraulically operated dozer/stabilizing blade at the front of the hull, towing equipment, and a complete range of tools and recovery equipment. This vehicle is known to have been used in East Germany.

IMR-2 Combat Engineer Vehicle

The IMR-2 is believed to be the replacement for the T-55 IMR. A crane is mounted that can be fitted with a number of attachments including pincers for uprooting trees. At the front of the vehicle is a dozer blade that can be used in a straight or V-configuration.
T-72 Photos - Click on image sample to see full size image.