M1 Abrams Main Battle Tank

GENERAL DATA
M1
M1A1
M1A2
Alternative Designations
General Abrams
Country of Origin
USA
Role
Main battle tank
Date Of Introduction
1981
1985
1995
Crew
4 (commander, gunner, loader, driver)
Combat Weight
60 tons (54 mt)
63 tons (57 mt)
68 tons (61 mt)
Ground Pressure
13.50 psi (0.95 kg/cm²)
15.0 psi (1.05 kg/cm²)
15.5 psi (1.09 kg/cm²)
Length, Overall
32.04 ft (9.77 m)
32.25 ft (9.83 m)
32.25 ft (9.83 m)
Width, Overall
12.0 ft (3.66 m)
12.0 ft (3.66 m)
12.0 ft (3.66 m)
Height, Overall
9.47 ft (2.89 m)
9.47 ft (2.89 m)
9.47 ft (2.89 m)
Height, Turret Top
7.79 ft (2.37 m)
7.79 ft (2.37 m)
7.79 ft (2.37 m)
Ground Clearance
19 in (483 mm)
PERFORMANCE
M1
M1A1
M1A2
Engine
Avco Lycoming AGT-1500 1,500 hp (1,119 kw) gas turbine engine
Transmission
Allison X1100-3B Cross-Drive Transmission. 4 speed forward, 2 speed reverse, with pivot and neutral selections.
Range
310 miles (498 km)
298 miles (479 km)
298 miles (479 km)
Fuel Capacity
504.4 gal (1,909 l) - Diesel, Mogas, Jet fuel
Road Speed
45 mph, governed (72 km/h)
42 mph, governed (67 km/h)
42 mph, governed (67 km/h)
Cross Country Speed
30 mph (48 km/h)
30 mph (48 km/h)
30 mph (48 km/h)
Speed on 10% Slope
20 mph (32 km/h)
20 mph (32 km/h)
17 mph (27 km/h)
Speed on 60% Slope
4.5 mph (7.2 km/h)
4.5 mph (7.2 km/h)
4.1 mph (6.6 km/h)
Swim Speed
N/A
Fording Depth
Without kit: 4 ft (1.2 m). With kit: turret roof, 7.79 ft (2.37 m)
Grade
60%
Side Slope
40%
Trench Crossing
9 ft (2.743 m)
Vertical Wall Climb
4.08 ft (1.244 m)
PROTECTION
M1
M1A1
M1A2
Armor
"Special armor." Classified. Similar to the English Chobham armor.
Applique Armor
"Special armor" track skirts
Explosive Reactive Armor
N/A
Active Protective System
N/A
NBC Protection System
Gas particulate filtration
200 SCFM - CleanCooled Air (NBC overpressure system)
Smoke Equipment
A 6 or 8 tube smoke grenade launcher (66mm M250 or M257) on each side of turret
ARMAMENT

M1, M1A1, M1A2
Type
Mount
Typical Ammo Load
105mm M68A1 rifled gun (M1)
Turret; stabilized; manual loading
55.
APFSDS-T, APDS-T, APERS-T, HEAT
120mm M256 smooth bore gun (M1A1, M1A2)
Turret; stabilized; manual loading
40 (42 M1A2), combustible cartridge.
APFSDS-T, HEAT-MP-T, Canister
7.62 M240 machine gun
Coaxial to main gun
11,400
7.62 M240 machine gun
Skate mount; loader's weapon
.50 Cal M2 machine gun
Commander's weapon
1,000
Additional armament: The tank crew's individual weapons - 1 M16A2 5.56mm rifle with 210 rounds. 4 9mm pistols with 400 rounds. 8 M67 hand grenades.

FIRE CONTROL
M1, M1A1, M1A2
Fire Control System
Digital ballistic computer, laser rangefinder, cant sensor, muzzle reference system, wind sensor, atmospheric temperature and pressure sensors.
Main Gun Stabilization
2-plane
Rangefinder
Laser. Originally Nd:YAG, replaced by eyesafe Erbium
Infrared Searchlight
N/A
NOTES
The Abrams is a full tracked, low profile land combat system possessing a high degree of armor protection, lethal firepower, maneuverability and agility.
The M1 offers improvement over M60 series tanks in areas of protection, mobility, firepower. The M1 also offers improvement in reliability, availability, maintainability, and durability (RAM-D). It has a very high automotive performance, but quiet operation due to its turbine engine.
For protection against newer anti-tank weapons, the M1 turret and hull has advanced armor protection similar to the English Chobham armor used on the Challenger and Leopard 2 main battle tanks.
The driver sits in the front center in a semi-reclining position when his hatch is closed. He steers with a motorcycle-type T-bar with twist grip controls for throttle and electronic fuel management. A panel displays the condition of fluid levels, filters, batteries, electrical connectors, and circuit breakers. Opening to the right is the driver's single hatch which has three integral periscopes. He has a 120° field of view. His night-driving periscope will fit into the loader's periscope housing.

The commander and gunner sit on the right of the turret, and the loader on the left. The commander has six periscopes that cover 360°. He also has a x3 sight for the 12.7-mm machine gun, and an optical extension of the gunner's primary sight (GPS). This GPS has dual x10 and x3 day optics or x10 and x3 thermal imaging night vision, a Hughes laser rangefinder, and sight stabilization. The gunner has a x8 auxiliary sight. The loader has a x1 periscope that can traverse 360°.
Armor bulkheads separate the fuel tanks from the crew. Sliding armor doors and armored boxes isolate the main gun ammunition. A Halon fire-extinguishing system reacts to the outbreak of a fire in two milliseconds and extinguishes the fires in less than 250 milliseconds. If penetrated by a HEAT projectile, the ready-use ammunition stowed in the turret bustle would explode through top panels. The turret bustle magazine also vents to the rear as well as upwards. Heavy access doors are kept closed automatically when the loader is not holding a pressure switch.
An engine-driven pump provides power for the electro-hydraulic gun and turret. A 1,500 horsepower gas turbine engine operates primarily on diesel or kerosene-based fuel, but can operate on gasoline during emergencies. Most engine components can be removed without taking out the engine. A complete powerpack can be removed and replaced in less than an hour, compared with four hours for the M60 series tanks. The gas turbine delivers more horsepower than a comparable diesel because of the low cooling requirement. Exhaust is at the rear and air inlet at the hull top.

Air transportability: C-5 Galaxy or C-17 Globemaster III heavy cargo aircraft.
The temperature of the M1's exhaust may be over 1,700°. Soldiers following behind the tank must be to the side of the exhaust grill or at a safe distance away if they are moving directly behind it.
Crewmen on combat vehicles have very limited abilities to see anyone on the ground to the side or rear of the vehicle. As a result, vehicle crews and dismounted infantrymen share responsibility for avoiding the hazards this may create. Infantrymen must maintain a safe distance from heavy vehicles at all times.
M1-series tanks are deceptively quiet and may be difficult for infantrymen to hear as they approach.
WEAPONS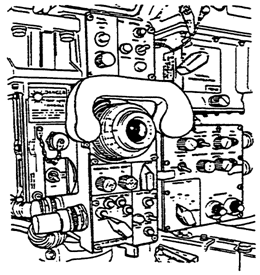 The Hughes infrared Thermal Imaging System (TIS) senses a small difference in heat radiated by objects. This is converted to electrical signals which are displayed on a cathode ray tube, similar to a TV picture. This image also is projected into the gunner's eyepiece. His sight displays target range information, ready-to-fire, and other systems indications. It also indicates if the laser rangefinder has received more than one return. The fire control computer has data entry and test panels for fault diagnosis.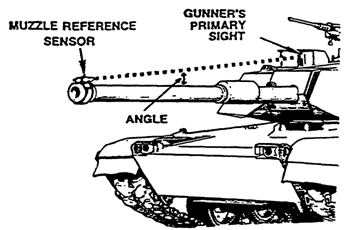 A stabilization system permits accurate firing on the move. The gunner merely places his graticule on the target, and uses the laser rangefinder to determine the range. Then a computer applies necessary angles, and the gunner opens fire. The computer also gets information from a wind sensor and a pendulum static cant sensor on the turret roof. The main gun has a muzzle reference system to measure the bend of the gun. The gunner manually sets battle sight range, ammunition type, barrel wear, muzzle reference compensation, barometric pressure, and ammunition temperature.
Main Armament
The turret can accept the standard 105mm M68 series gun or the German Rheinmetall 120mm L44 smoothbore gun (
American designation M256
).
The 105mm gun fires standard M60 type armor piercing rounds. A newer depleted uranium (DU) round has higher density and penetrating capabilities (not exported by the U.S.). The tank carries 55 rounds of 105mm ammunition: 44 in the turret bustle, three horizontally in spall-proof containers on the turret basket, and eight in a hull box.


When fitted with the 120mm gun, the tank is designated M1A1, or M1A2. The M1A1 carries 40 rounds of 120mm ammunition; 34 in the turret bustle and six in a rear hull box. Maximum effective range is 3,000 meters.
---
Secondary Armament
Mounted coaxially to the main gun is a
7.62mm M240 machine gun
. A similar machine gun is skate-mounted on the left side of the turret for the gunner. The M1 carries some 11,400 rounds of 7.62mm ammunition. A
.50 caliber Browning M2 HB machine gun
is located at the commander's station. It can be aimed and fired from within the turret (the M1A2 has lost this ability due to turret changes). The tank carries 1,000 rounds of .50 caliber ammunition.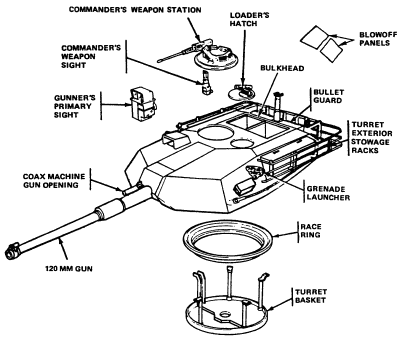 M1A1 turret, 1024x865, 67, PNG
M250/M257 SMOKE GRENADE LAUNCHERS
The
M250
(6 grenades each mount) or
M257
(8 grenades each mount) smoke grenade launchers are located on either side of the turret. The smoke grenades (UKL8A1, UKL8A3, M76, M81, or M82) are fired from the control panel at the commander's weapon station.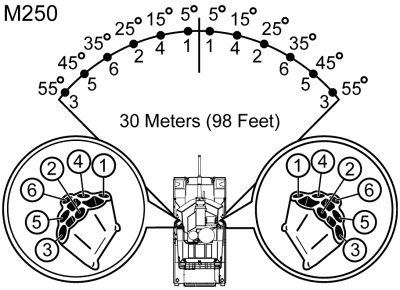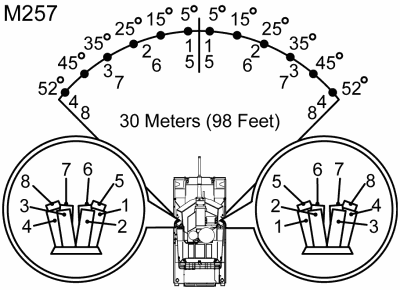 POWER TRAIN
The power train on the M1 tank, located in the rear of the hull, provides the basic power to drive the tank. The power train has a turbine engine mated to an automatic transmission (aka "power pack"). Accessories on the power train provide hydraulic and electrical power for the tank and its auxiliary systems. The power pack and accessories are designed for ease of maintenance and have "quick disconnects" to facilitate removal.
The power pack weighs approximately 8,500 pounds (3,855 kg) and is 119 inches long, 80 inches wide, and 47 inches high (3,022 x 2,032 x 1,194 mm).
The AGT-1500 is a multifuel engine and will burn virtually any distillate for internal combustion engines. Transmission output is through identical left and right final drives to the track drive hub and sprocket assemblies.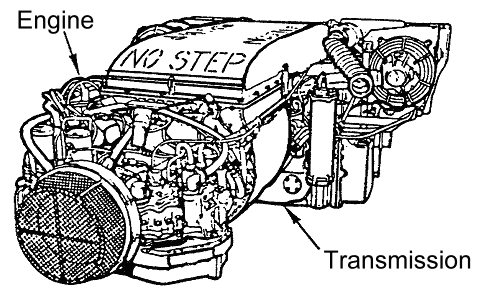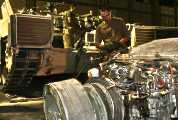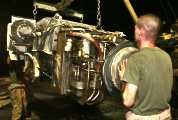 USMC M1A1, Company A, 2nd Tank Battalion.
Operation Iraqi Freedom.
Camp Habbaniyah, Iraq.
29-JUN-2006
U.S. Marine Corps Photos by Cpl. Mark Sixbey
841k, 742k, 972k
VARIANTS
The U.S. Army's current objective is to upgrade and modernize the M1 fleet to only two configurations: M1A2 SEP and M1A1 AIM.
---
The Abrams has a
bulldozer kit
which fits onto the tank's lifting eyes and towing lugs. It is powered by the tank's 24 volt electrical system.
---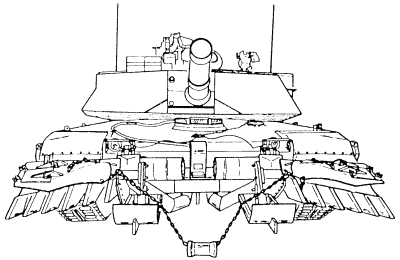 The Abrams
mine-clearing blade (MCB)
weighs approximately 6,943 pounds (3,150 kg) and can be mounted on an M1 tank without special preparation or modification. Mounting requires lift capability and takes up to an hour, so it must be mounted well in advance of the mission. It is not easy to mount or transfer the MCB to another tank under battlefield conditions.
The MCB consists of a blade arrangement with scarifying teeth to extract mines, a moldboard to cast mines aside, and leveling skids to control the depth of the blade. The MCB lifts and pushes mines, which are surface-laid or buried up to 12.2 inches (310 mm) deep, to the side creating a 4.9 foot (1.5 m) cleared path in front of each track. A dog-bone assembly between the blades defeats tilt-rod mines. The improved dog-bone assembly (IDA) projects a magnetic signature and defeats tilt-rod and magnetic mines.
Once mounted, an electric motor raises and lowers the blade. When it is in the raised position, it minimally effects the Abrams' maneuverability and speed. The MCB is also equipped with an emergency, quick-disconnect feature.
The M1 should perform plowing operations from 5 to 6 mph (8 to 10 kph), depending on soil conditions. It cannot maneuver but must continue in a straight path through the minefield to avoid damaging the blade. The main gun must be traversed to the side during plowing because mine detonation under the blade may cause the gun to be thrown violently into the air, damaging the tube. The area selected for the lane must be relatively flat and free of rocks or other obstacles.
---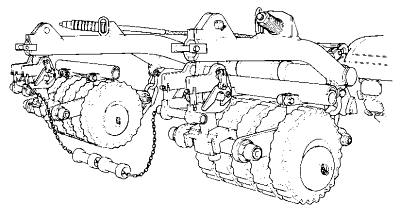 A
mine-clearing roller (MCR)
can be mounted on an M1 or M60 tank that is modified with a permanently attached mine-roller mounting kit. Mounting the roller to a tank is a cumbersome, time-consuming operation because it is very difficult under battlefield conditions and requires lift capability. The roller tank is limited to a speed of 3 to 10 mph (5 to 15 kph).
The MCR consists of a roller assembly, a mounting kit, and a hand winch kit. The roller assembly weighs approximately 20,000 pounds (9,072 kg) and consists of two push beams mounted to the front of the tank. The rollers are designed to defeat most single-pulse, pressure-activated AT and AP mines. The roller creates a 3.6 foot (1.1 m) wide cleared path in front of each track.
When employed in a suspected minefield, the MCR must travel in a relatively straight path, because tight turns may cause the roller to deviate from the path of the track and leave the tank vulnerable to mines. Ground fluctuations, bumps, and berms may cause the roller to lift from the ground and miss mines.
The roller is designed to withstand multiple mine explosions before damage; however, this depends on the size of the mines. Large blasts may destroy the roller or the vehicle or injure the crew. Rollers are best used to proof lanes in obstacles that are breached by other means, such as a MICLIC or an MCB.
---
XM815, XM1

Fort Knox began a study in 1971 to develop a new U.S. main battle tank. Crew survivability was the number one priority for the new tank. The tank's original XM815 designation was quickly changed to XM1. General Motors and Chrysler Corporation each delivered one prototype XM1 vehicle to the U.S. Army in 1976 for testing. The Chrysler Corporation design was selected for development as the M1.



M1 (NSN 2350-01-061-2445)

1981. Production: 1980-1985. "Tank, Combat, Full Tracked, 105 mm Gun, M1 General Abrams." Original production model. See data above.

Advanced Chobham armor.
Advanced suspension (torsion bars with rotary shock absorbers).
Hydraulically stabilized turret/gun system.
Digital ballistic computer.
Laser range finder (LRF).
Thermal imaging night sight (TIS).




IPM1 (NSN 2350-01-136-8738)

1984. Production: 1984-1986. "Tank, Combat, Full Tracked, 105 mm Gun, IPM1 General Abrams." Improved Performance M1. Released as an interim before the M1A1 variant. Increased frontal armor, increased external stowage, and suspension system improvements.

M1A1 (NSN 2350-01-087-1095)

1985. Production: 1985-1993. "Tank, Combat, Full Tracked, 120-mm Gun, M1A1 General Abrams." See data above.


120mm main gun.
Nuclear, biological, and chemical overpressure system.
Advanced Chobham armor.
Advanced suspension (torsion bars with rotary shock absorbers).
Hydraulically stabilized turret/gun system.
Digital ballistic computer.
Laser range finder (LRF).
Thermal imaging night sight (TIS).
Onboard malfunction detection system.
Compartmented fuel/ammunition.
Single channel ground/air radio system (SINGCARS).

M1A1 from 1st Armored Division.

Exercise Ready Crucible.

Taunus Mountains north of Frankfurt, Germany.

22-FEB-2005

U.S. Army Photo by Richard Bumgardner

1024x768, 281K, JPEG

M1A1 - U.S. Marine Corps (NSN 2350-01-087-1095)

"Tank, Combat, FT, 120 mm Gun, M1A1." Hardware unit cost: $2,112,000 (FY 1989 HWE Cost). The M1A1 was a replacement for the Marine Corps M60A1 Reliability Improved Selected Equipment (RISE)/Passive (R/P) Tank. The M1A1 for the U.S. Marine Corps is identical to the U.S. Army version with a few minor exceptions. The Marine M1A1 includes a Deep Water Fording Kit (DWFK) with a cap for the 120mm main gun and engine intake and exhaust towers which enable the tank to ford a depth of 2 meters. It also has more tie-downs for secure stowage on board ship.


M1A1 HA

Production: 1988-1991. M1A1 Heavy Armor. Added steel-encased depleted uranium armor to the left and right frontal turret armor. This significantly improved armor was designed to meet Warsaw Pact anti-armor weapons. Depleted uranium has two and a half times the density of steel.

M1A1D

Production: 1999-2001. The Abrams M1A1D is an M1A1 Abrams tank that has been equipped with a digital applique command and control package consisting of:



A-Kit (upgraded Tank Commander's Panel/UTCP) with peripheral hardware. Unit cost: $8,000 (Fiscal Year 2009).


B-Kit (Applique computer display and keyboard). Unit cost: $34,000 (Fiscal Year 2005).


C-Kit (provides far-target-designation capability by integrating a North Finding Module (NFM) and a Digital Interface Unit (DIU) to process raw tank data and format messages for transmittal to the Applique card. Unit cost: $194,000 (Fiscal Year 2002); $52,000 (Fiscal Year 2005).


The M1A1D conversion is a key component in the Army's plan to field the First Digital Division and will also significantly add to the useful combat life of these vehicles.

M1A1 AIM XXI

1999. Production: 1999-2006. Abrams Integrated Management for the 21st Century (AIM XXI). The Army is overhauling its remaining M1A1 tanks to reduce their operating and support costs. The M1A1 AIM upgrade includes:



A "like new" zero time/zero hour rebuild.
Engine upgrade.
Armor upgrade.
Embedded architecture for future M1A1D retrofit, if required.


M1A1 AIM tanks are fielded primarily to Army National Guard brigades.

M1A2

1995. Production: 1992-1999. See data above.

1024x760, 67K, PNG

Advanced Chobham armor.
Advanced suspension (torsion bars with rotary shock absorbers).
Fully stabilized sight.
Onboard malfunction detection system.
Compartmented fuel/ammunition.
Single channel ground/air radio system (SINGCARS).
Digital electronic control unit.
Intervehicular information system (IVIS).
Driver thermal viewer (DTV).
Commander's independent thermal viewer (CITV).
Inertial position navigation system (POSNAV).
Improved commander's weapon station (CWS).
Commander's integrated display.
Driver's integrated display.
Gunner's control and display panel.

M1A2 SEP, M1A2 SEPv1

1999. Production: 1999-?. The M1A2 SEP (System Enhancement Program) tank, is the successor to the M1A2, which was the Army's first fully digital ground combat system. The prime contractor is using depot refurbished M1 tank hulls supplied by the Government. Therefore, for each M1A2 SEP tank produced, there will be a corresponding decrease in the Army's M1 tank inventory.

The first M1A2 SEP tank was delivered to the Government on September 1, 1999.

The program upgrades the M1A2's computer systems and its night vision capabilities. The SEP tank has

better microprocessors
color flat panel displays
more memory capacity
better Soldier-Machine Interface (SMI)
a new open operating system designed to run the Army's Common Operating Environment (ACOE) software


Both the Gunner's Primary Sight (GPS) and the Commander's Independent Thermal Viewer (CITV) on the SEP tank include the improved thermal imaging capabilities of the new 2nd Generation Forward-Looking Infra-Red (FLIR) technology.


Tank Urban Survivability Kit/Tank Urban Survival Kit (TUSK)

A program to help improve the M1's survivability in an urban environment. The goal is for the entire TUSK to be applied by units in the field, without requiring a return to a depot for modification.


Commander's Remote Weapons Station - Provides ability to fire .50 caliber machine gun from inside the turret. Under development.
Loader's Armored Gun Shield (LAGS) - Provides protection to the loader when firing the 7.62mm machine gun. Fielded.
Loaders Thermal Weapon Sight (LTWS) - Provides ability to locate and fire on targets in the dark. Fielded. A system that attaches a pair of goggles to the sight, allowing the loader to fire the gun from inside the turret, while seeing the thermal sight's image, is under development.
Abrams Reactive Armor Tile (ARAT) Skirts.
Abrams Rear Protection Unit Armor Kit - Slat armor designed to protect the tank's rear from RPG attack. Painted with a special heat-resistant paint. Fielding started in 2003.
Tank Infantry Phone (TIP) - Allows infantry and armor soldiers to work together in combat.
Driver's Rear Facing Camera.
New driver's safety seat.
Tank Commander's 360° Camera.
Counter Sniper/Anti-Materiel Mount (CSA-MM) - Mounts a .50 caliber M2 machine gun with a Xenon spotlight on top of the main gun. Can be fired single shot or full auto. Aimed using the M1's ballistics computer. Fielded.
Power Distribution Box (PDB).


The loader's shield, remote weapons station, and the tank infantry telephone may all be included as regular production items in new Abrams' production.


M1A2 with TUSK, U.S. Army Photo, 2160x1400, 484K, JPEG

Total Integrated Engine Revitalization (TIGER)

2007-?. Provides more reliability, durability, and a single standard for the Abrams' power train.


M1 Grizzly, M1 Breacher, Assault Breacher Vehicle (ABV)

The Grizzly provides a hasty capability for breaching complex obstacles of mines, wire, posts, rubble, and tank ditches to create a lane for other vehicles to follow. The Grizzly's primary features are a full-width, 4.2 meter mine-clearing blade and a power arm. The power arm has a reach of 9 meters and a bucket capacity of 1.2 cubic meters. Its primary missions are to to clear minefields, neutralize obstacles, demolish berms, and fill in anti-tank ditches.



800x690, 67K, JPEG

1000x540, 131K, JPEG

680x475, 91K, JPEG

M1 Panther II

Production: 2000-2001. A specially modified 43 ton, remote-controlled Abrams tank stripped of its turret with an Omnitech's Standardized Teleoperation System and a mine-clearing blade or roller. The Panther can also be driven manually with a crew of two. The driver sits in the original driver's position, while the commander sits inside the crew compartment, which originally housed the turret. Originally developed for use in Bosnia. Used in combat for the first time in 2003 during Operation Iraqi Freedom.



M104 Wolverine

2001. Production: 1999-2003. Wolverine Heavy Assault Bridge. An M1A2 Abrams SEP tank chassis with an 85 foot (26 m) long bridge and an Electronic Controlled Hydraulic Launching Mechanism. Replaces the obsolete Armored Vehicle Launched Bridge (AVLB) on a one-for-one basis.

The system design is capable of spanning gaps up to 79 feet (24 m) wide, using either prepared or unprepared abutments within its required performance envelope, while supporting the crossing of 70 ton vehicles at 10 mph (16 kph).

The design of the bridge structure is to withstand 5,000 crossings of 70 ton vehicles and at least 1,100 launch and retrieve cycles without major repair.

The system launches the bridge horizontally within 5 minutes through automatic sequencing of the launch mechanism using Vehicle Electronics (VETRONICS) controls from either of the two-crew stations. The total retrieval time requirement is less than 10 minutes. This redundant launch and retrieve capability will use hydraulic power from the Launch Power Unit (LPU), vehicle power pack, or slaved to another Wolverine.

The Wolverine design is for operation by a crew of two, logistically compatible with the Abrams chassis, and near equality in mobility and survivability to the Abrams Tank. The program goal is for 90% commonality between the Wolverine and the Abrams chassis at the piece-part level.



U.S. Army Photo

889x601, 78K, JPEG

U.S. Army Photo

665x330, 68K, JPEG
Abrams Photos - Click on image sample to see full size image.