M113 Armored Personnel Carrier

GENERAL DATA
M113
M113A1
M113A2
M113A3
Country of Origin
USA
Role
Armored personnel carrier
Date Of Introduction
1960
1964
1979
1987
Crew
2 (track commander, driver) + 11 passengers
Combat Weight
11.45 tons (10.39 mt)
12.35 tons (11.20 mt)
12.49 tons (11.33 mt)
13.5 tons (12.25 mt)
Ground Pressure
7.5 psi (0.53 kg/cm²)
7.82 psi (0.55 kg/cm²)
7.9 psi (0.56 kg/cm²)
8.6 psi (0.6 kg/cm²)
Length, Overall
15.96 ft (4.86 m)
17.45 ft (5.32 m)
Width, Overall
8.82 ft (2.69 m)
Width, No Track Shrouds
8.33 ft (2.54 m)
Height, Overall
8.19 ft (2.5 m)
Height, Hull Top
6 ft (1.83 m)
Ground Clearance
16.1 in (410 mm)
16.9 in (430 mm)
PERFORMANCE
M113
M113A1
M113A2
M113A3
Engine
Chrysler 75M: 209 hp (156 kw) 8 cylinder, 4 cycle gasoline
Detroit Diesel 6V53: 212 hp (158 kw), 6 cylinder, V-type, 2 cycle diesel
Detroit Diesel 6V53T: 275 hp (205 kw), 6 cylinder, V-type turbocharged, 2 cycle diesel
Transmission
Allison TX-200 series. 4 speed forward, 1 speed reverse
Allison TX-100 series. 3 speed forward, 1 speed reverse
Allison X200-4 series hydromechanical cross drive. 4 speed forward, 1 speed reverse
Range
200 miles (322 km)
300 miles (483 km)
Fuel Capacity
80 gal (303 l)
95 gal (360 l)
Road Speed
40 mph (64 km/h)
41 mph (66 km/h)
Cross Country Speed
15 mph (25 km/h)
Swim Speed
3.6 mph (5.8 km/h)
Fording Depth
3.33 ft (1.02 m). Amphibious with minimal preparation
Grade
60%
Side Slope
30%
Trench Crossing
5.5 ft (1.68 m)
Vertical Wall Climb
2.0 ft (0.61 m)
PROTECTION
M113
M113A1
M113A2
M113A3
Armor
5083/5086 H32 aluminum: 1.75 in (44.45 mm) left/right hull sides. Protection from small-arms fire (7.62mm and smaller) and fragmentation munitions.
Adds internal spall liners
Applique Armor
Anti-mine armor on bottom of chassis
Anti-mine armor on bottom of chassis.
Supports installation of a bolt-on armor kit providing 14.5 mm ballistic protection
Explosive Reactive Armor
N/A
Available
Active Protective System
N/A
NBC Protection System
N/A
Equipped to carry M8A3, M13, or M14 gas particulate filter system
M8A3 gas particulate filter system (with heaters)
Smoke Equipment
N/A
Two 4-tube smoke grenade launchers (66mm L8A1 smoke grenades) on the front
ARMAMENT

M113, M113A1, M113A2, M113A3
Type
Mount
Typical Ammo Load
.50 cal M2HB machine gun
Commander's cupola; pintle-mounted; belt feed
2,000
Additional armament: The APC squad's weapons (rifles, grenade launchers, light machine guns, anti-tank rockets) can be fired from the vehicle or dismounted and fired from a ground position.

FIRE CONTROL
M113, M113A1, M113A2, M113A3
Fire Control System
N/A
Main Gun Stabilization
N/A
Rangefinder
N/A
Infrared Searchlight
N/A
NOTES
The M113 is a lightly armored personnel carrier that provides good mobility combined with fair firepower and protection. The M113 APC is used to transport and position combat troops and supplies.
Although the earlier M113/A1/A2 carriers are less mobile than the M2/M3 Bradley, the M113A3 in some ways has superior mobility over both the heavier Stryker and Bradley in that it has a lower ground pressure and can swim. The M113 carriers also consume significantly less fuel than the Bradley.
As of 2006, the M113 Armored Personnel Carrier Family of Vehicles (FOV) consists of approximately 14,000 vehicles with 16 different variants in service in U.S. Army units. The M113 FOV is 40% of the tracked combat vehicle fleet in a Heavy Brigade Combat Team. The M113 FOV provides platforms for anti-tank, fire direction, smoke, mortar, cargo carrier and command & control systems. The fleet is expected to remain in service for the next 45 years and must be modified to increase mobility, survivability and to install operational enhancements.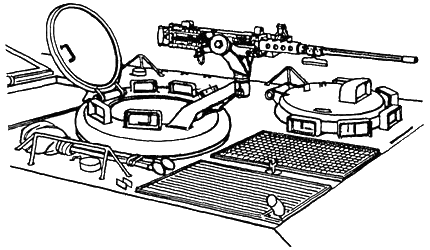 The M113's primary weapon system is the .50 caliber machine gun. This weapon provides the vehicle with suppressive firepower and a light-vehicle-killing capability. The .50 MG is not stabilized, requires the gunner to be exposed while firing, and is not accurate when fired on the move.
The MK19 40mm grenade machine gun can be mounted on the commander's cupola, replacing the .50 MG. The M47 Dragon missile system (no longer in U.S. service) can be mounted on the commander's cupola, in addition to the .50 MG.
The M113-series carriers are air transportable aboard C-5, C-17, C-130, and C-141 USAF cargo aircraft. The carriers exceed size and weight limitations for transport by U.S. Army fixed-wing aircraft.
The M113/A1/A2/A3 are capable of LAPES (low altitude parachute extraction system) and LVAD (low velocity air drop) operations.
VISIBLE AND THERMAL RECOGNITION CUES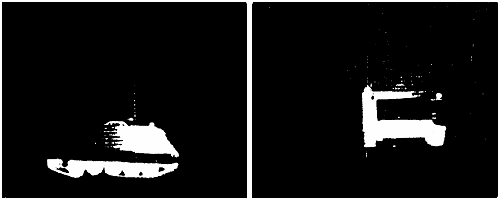 Main characteristics of the front-engine M113 APC include:
An oval-shaped track and road wheel pattern.
A box-shaped hull with no turret.
Characteristics visible from the front include:
Characteristic hot spot can be seen on the front right corner.
On the front right corner, an upward-moving exhaust plume that can be seen at short ranges.
A dark surfboard across the front of the vehicle.
An overall boxy shape.
From the right, even at long ranges, you can see the M113 APC's characteristic front hot corner. From the left, you can see a cool box shape. Characteristics visible from both sides include:
A beveled front end.
A low track.
A track skirt, which gives the track a low profile.
Five evenly spaced road wheels.
ARMOR SHIELD KITS
Machine gun armor shield kits are available for the commander's cupola and rear cargo hatch. The rear shields each allow for a pintle-mounted machine gun.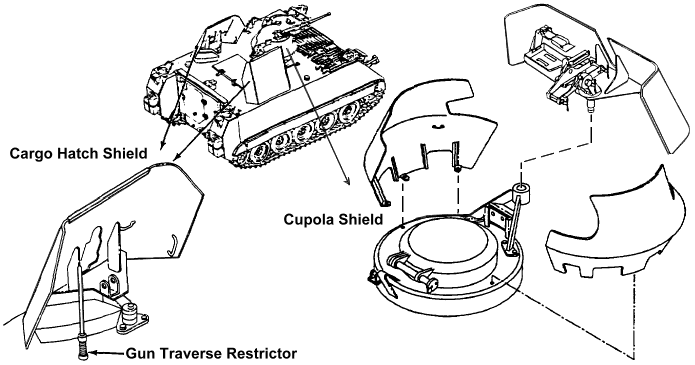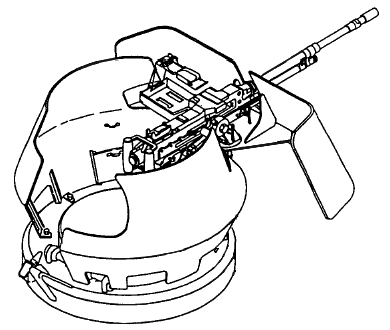 ADD ON ARMOR
The M113 Add on Armor (AOA) suite consists of high hard steel providing 360° vehicle protection, bar armor application to defeat Rocket Propelled Grenades (RPGs), Transparent Armor Gun Shield (TAGS) and cupola protection, and an underbelly mine armor kit providing mine protection.

A rapid procurement initiative was approved in December 2004 for the installation of 734 M113 armor suites for M113A3, M577A3, M1068A3, and M1064A3 vehicles. In July 2005, a second initiative was approved for an additional 453 vehicles to receive AOA suites.

As of Fiscal Year 2007, the average cost of each AOA suite is approximately $109,000.
NBC SYSTEMS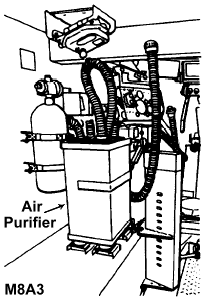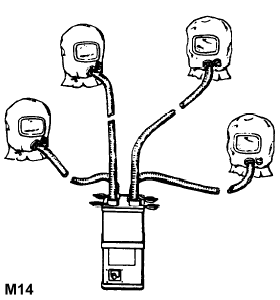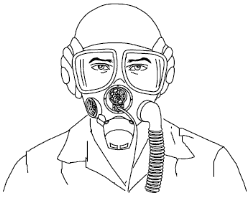 The NBC system provides a filter unit and gas masks for protection against Nuclear, Biological, and Chemical attacks. The NBC system will not filter carbon monoxide exhaust gases, nor will the air purifier provide oxygen to protect against asphyxiation.
Carriers may be equipped differently. All of the NBC systems consist of an air purifier, hose assemblies to carry purified air to the gas masks, a circuit breaker, switch, and electric cables. In addition to the basic M8A3 NBC system, the M13 NBC system adds heaters to heat the purified air in cold weather, and the M14 NBC system provides hospital hood protectors for disabled patients. The M14 may also have heaters.
OPERATION JUST CAUSE
Panama, December 1989 - January 1990.

The M113 performed well, often exceeding expectations. The M113 proved to be an excellent vehicle in MOUT (Military Operations on Urbanized Terrain). Infantry firing from the open cargo hatch, in conjunction with the pintle-mounted .50 caliber machine gun, were easily able to engage targets on roof tops and maintain 360° surveillance as they moved through the city. The M113 was very useful at roadblocks and for fire-power demonstrations.

Sandbags improved the survivability of M113 vehicles in MOUT. Sandbags protect soldiers from ricochets, sniper rounds and fragments. Sandbagging vehicles also gave a limited standoff protection from RPG rounds fired from above.

he M113 was a very effective gun platform, armored troop carrier, evacuation, and roadblock vehicle. The cargo hatch in the rear allowed troops with body armor to conduct 360° surveillance and engage snipers on rooftops. Its interior was large enough to be an efficient evacuation vehicle for noncombatant evacuation (NEO) and medical purposes. Mechanized units positioned concertina wire at specific points on the vehicle and perfected drills to emplace roadblocks quickly.


VARIANTS
M113 Photos - Click on image sample to see full size image.