Light Armored Vehicle 25 (LAV-25)

GENERAL DATA
LAV-25
Alternative Designations
LAV-25A1, LAV 25mm Gun, Gun-Fighter
Country of Origin
Canada
Role
Infantry fighting vehicle
Date Of Introduction
1985
Crew
3 (commander, driver, gunner) + 6 passengers
Combat Weight
14.1 tons (12.8 mt)
Ground Pressure
?
Drive Formula
8 x 8
Length, Overall
20.97 ft (6.39 m)
Width, Overall
8.2 ft (2.5 m)
Height, Overall
8.83 ft (2.69 m)
Height, No Pintle Mount
8.41 ft (2.57 m)
Ground Clearance
?
PERFORMANCE
LAV-25
Engine
275 hp (205 kw) Detroit Diesel 6V53T
Transmission
Allison MT653. 5 speed forward, 1 speed reverse
Range
410 miles (660 km)
Fuel Capacity
71 gal (269 l)
Road Speed
62 mph (100 km/h)
Cross Country Speed
?
Swim Speed
6 mph (9.6 km/h)
Fording Depth
Amphibious
Grade
60%
Side Slope
30%
Trench Crossing
6.75 ft (2.057 m)
Vertical Wall Climb
1.6 ft (0.5 m)
PROTECTION
LAV-25
Armor
High hardness steel. Designed to defeat 7.62mm M1943 ball.
A2 upgrade adds internal spall liners.
Applique Armor
A2 upgrade adds external armor.
Explosive Reactive Armor
N/A
Active Protective System
N/A
NBC Protection System
M8A1 ventilated face mask system.
Smoke Equipment
Two four-barrelled M257 smoke dischargers.
ARMAMENT

LAV-25
Type
Mount
Typical Ammo Load
25mm M242 automatic gun
Turret; dual-belt feed
Ready: 210 (150 + 60). Stowed: 420.
APDS-T, APFSDS-T, HEI-T, TPDS-T, TP-T.
7.62mm M240 machine gun
Coaxial to main gun
Ready: 440. Stowed: 1,200.
Ball, tracer.
Optional 7.62mm M240E1 machine gun
Commander's station; pintle-mounted; belt feed
Ready: 220.
Ball, tracer.

FIRE CONTROL
LAV-25
Fire Control System
N/A
Main Gun Stabilization
Yes
Rangefinder
Yes
Infrared Searchlight
N/A
NOTES
The information on this page deals mainly with the LAV-25 vehicle and its variants as used by the U.S. Marine Corps. The LAV-25 was originally manufactured by General Dynamics Land Systems - Canada (then known as Diesel Division, General Motors of Canada) and is based on the Swiss MOWAG Piranha vehicle.
The LAV-25 is a light armored vehicle that is air transportable in current U.S. Air Force cargo transports. The C-5A can carry eight, the C-141 two, and the C-130 carries one. The U.S. Marine Corps CH-53E helicopter can transport one LAV-25 in the sling position. The LAV-25 has also been successfully air-dropped and was operational within 12 minutes.
The LAV-25 features a unibody construction where the high hardness steel armor also serves as the load bearing structure of the vehicle.
The U.S. Army designation for this vehicle was the M1047. The Army version and the Marine Corps versions were very similar. The Army version had increased ammunition stowage, but was not intended to carry troops.
The LAV has a 275 horsepower diesel engine which could be increased to 300 horsepower by charged injection.
In Marine Corps winter mobility tests, it took an average of 15 minutes to install chains on the tires. The chains improved the mobility of the LAV in snow and did no damage to hard surface roads or the vehicles.
Recognition features:
Four large wheels on each side.
Amphibious.
Boat-shaped hull.
Two water-propulsion propellers at the rear.
Rear-mounted turret.
High center of gravity.
Large exhaust system on right side of hull.
Two doors in rear.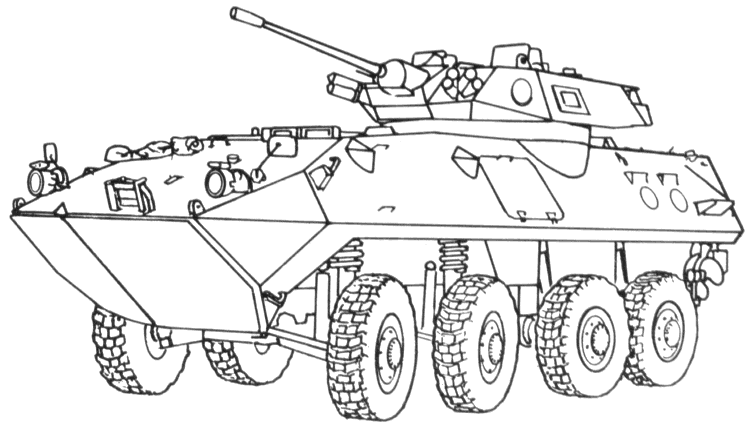 VARIANTS
LAV Reliability, Availability, and Maintainibility (LAV RAM) Improvements:
USMC projects funded under the LAV RAM program include numerous low-dollar, yet extremely important minor vehicle and weapon modifications, focusing on safety and obsolescence issues, support equipment and tools, and other such projects that increase LAV reliability and readiness while simultaneously reducing operations and support costs. This funding is critical to offsetting support issues generated as a result of the GWOT and the advancing age of the family of Light Armored Vehicles, respective of the extended service life through 2025, while maintaining acceptable levels of fleet readiness.
---
LAV Upgrade/LAV SLEP-PIP:
The LAV Service Life Extension Program (FY2005 - FY2008) is in direct support of the USMC decision to stand up 5 new Light Armored Reconnaissance (LAR) companies. The USMC has not procured new LAV's since the late 1980's and the configuration has changed in the following areas: GEN II suspension, power pack (engine, transmission, 2 speed T-case), and electric turret drive. Survivability upgrades have also been incorporated in an automatic fire suppression system and ballistic protection upgrade package (add-on armor and spall liners). These modifications are required to keep the LAV family of vehicles configuration as common as possible.
The GEN II suspension upgrade includes new struts/steering knuckles, torsion bars, shocks and mounts and drive shaft.
The following modifications are funded as of FY2008 (LAV-A2, LAV OIF Upgrades): GEN II suspension, electric turret drive, automatic fire suppression system, and the ballistic protection upgrade package. New survivability upgrades for the GWOT theater include mine protection, blast shields, and mission role variant mounts.
---
LAV 25 (LAV-25, LAV-25A1)

See data above. Provides strategic mobility to reach and engage the threat, tactical mobility for effective use of fire power, fire power to defeat soft, and armored targets, and battlefield survivability to carry out combat missions.

LAV SLEP Improved Thermal Sight System (ITSS):
This upgrade will replace the current Generation I thermal sight with a significantly more capable Generation II system with greater ranges for detection, recognition and identification. The new sight will also incorporate an integrated laser range finder, fire control computer, target motion indicator and target coordinate computation. These improvements will materially enhance the survivability and lethality of the LAV-25 platform.

LAV Lethality Program:
FY2007-FY2010. Upgrade the LAV-25's M242 gun and associated hardware and software necessary to enable the firing of M919 25mm Armor Piercing, Fin Stabilized, Discarding Sabot (Depleted Uranium) with tracer ammunition. The LAV lethality upgrade will provide superior lethality resulting in increased survivability. The LAV lethality program will invest in technologies currently on the U.S. Army's Bradley Fighting Vehicle.

LAV-25 War Loss Program:
FY2006-FY2008. This program procures LAVs from General Dynamics Land Systems to replace vehicles lost in combat supporting the Global War on Terror.



LAV Air Defense (LAV-AD)

The LAV-AD is a modified Type I Chassis mated with Blazer Air Defense Turret developed by General Dynamics Ordinance Systems for the USMC. The two man turret is equipped with two Stinger RMP Launchers and a 25mm, GAU-12 Gatling Gun. The crew consists of the vehicle commander, driver, and gunner.

Its primary mission is to provide low altitude air defense against forces from airborne threats by fixed and rotary winged aircraft and unmanned aerial vehicles capable of speeds of zero to 500 NMPH, at ranges within the envelope of the Stinger Missiles and the 25mm ammunition. A secondary mission is to provide ground defense against light armored mechanized forces. The LAV-AD variant is also equipped with a FLIR/Day TV sight system and a full communications suite consisting of Dual VHF, HF radios and an intercom system.

LAV Anti-Tank (LAV-AT, LAV-ATA1)

This vehicle provides mobile, armored, accurate and destructive fire from defiled positions against heavy armored target and fixed fortifications. With its mobility, it can keep pace with it's applicable assigned military unit. The vehicle can be used in both the defensive and offensive roles.

This vehicle has an Emerson 901A1 twin TOW launcher mounted on top of the hull above the third wheel. The launcher carries two ready-to-launch missiles, and there are 14 more missiles in the hull. Secondary armament consists of a M240E 7.62mm or a M2HB 12.7mm machine gun on a pintle and two four-barrelled M257 smoke dischargers. The vehicle also carries a ground mount for the TOW and a hand-held laser rangefinder. The vehicle has a crew of four consisting of the driver, commander, gunner, and loader.



LAV Command and Control Vehicle (LAV-CC, LAV-C2, LAV-C2A1, LAV-C²)

The LAV-CC is a Type I raised roof chassis outfitted with communication stations that allows the unit commander the capability to command, control, and communicate (C3) the activities of his forces under full armored protection.

This version has a similar hull to the logistics vehicle, and has extensive communications equipment installed. The crew consists of the vehicle commander and driver. There is space for a unit commander and four staff members or radio operators. Armament consists of one pintle-mounted M240E 7.62mm machine gun and two four-barrelled M257 smoke dischargers.

LAV-C2 Upgrade:
The USMC LAV-C2 upgrade (FY 2008 - FY2010) is designed to meet and maintain the command and control requirements of the Operational Requirements Document (ORD). The LAV-C2 upgrade provides a hardware and software module for the LAV-C2 to support complex radio configurations. The upgrade will provide the vehicles - and the appropriate LAR unit command element - with the capability to send and receive voice and data communications to higher, adjacent, and subordinate units. The module will provide isolation of critical communications functions in a self-contained module to support a mix of legacy radio and the Joint Tactical Radio System (JTRS). The modification is needed to keep the LAV-C2 a viable weapon system through the service life of the LAV Family of Vehicles.

LAV Logistics Vehicle (LAV-L)

Transports ammunition, rations, and POL (petroleum, oils, and lubricants) supplies required to sustain operations of foward LAV units.

This vehicle has a higher roof with twin hatches for the rapid loading and unloading of cargo. The crew of three consists of the commander, driver, and loadmaster. There is a crane for loading and unloading cargo at the left rear of the hull. Armament consists of a pintle mounted M240E 7.62mm machine gun and two four-barrelled M257 smoke grenade launchers.



LAV Mortar (LAV-M)

Provides indirect fire support to light infantry and reconnaissance froces; providing high explosive area fire, covering smoke and illumination for foward units.

This version has a crew of four consisting of the commander, driver, and three mortar men. The vehicle carries an M252 81mm mortar and 94 rounds of ammunition. The mortar is mounted in the center of the vehicle, and fires through the three-part roof hatch. There is also a pintle-mounted M240E 7.62mm machine gun and two four-barrelled M257 smoke grenade launchers.



Road test of rebuilt LAV-M.

USMC Logistics Base, Barstow, California.

25-AUG-1993

U.S. DoD Photo

2600x1400, 674K, JPEG

Slope test of rebuilt LAV-M.

USMC Logistics Base, Barstow, California.

25-AUG-1993

U.S. DoD Photo

720x580, 219K, JPEG

LAV Mobile Electronic Warfare Support System (LAV-MEWSS)

Provides two-way communications, data collection, locating and positioning of enemy forces, and jamming and intercepting of enemy communications.

The crew consists of the vehicle commander, driver, electronic support measure operator, and electronic countermeasure operator. Equipment includes the AN/ULQ19 electronic jamming system, AN/PRD-10 direction finder system, two WJ-8618B acquisition receivers, and a radio system. Armament consists of one pintle-mounted M240E 7.62mm machine gun and two four-barrelled M257 smoke dischargers.

LAV Recovery (LAV-R)

This vehicle is be capable of safely uprighting overturned LAVs while minimizing additional damage. The vehicle is also capable of towing a disabled LAV with suspension damage.

This vehicle has a crew of five: the commander, the driver, and two mechanics. There is a M240E 7.62mm pintle-mounted machine gun and two four-barrelled M257 smoke grenade launchers. The vehicle is equipped with a portable auxiliary power unit, a crane with a 9,000 pound (4,082 kg) capacity, a rear-mounted winch with a capacity of 30,000 pounds (13,608 kg), and two MS-51320 flood lights (4,400 candle power). There are four stabilizers to provide a more stable platform when the crane is in use.
LAV Photos - Click on image sample to see full size image.