BMD-1 Airborne Fighting Vehicle

GENERAL DATA
BMD-1
Country of Origin
CIS (formerly USSR)
Role
Air-droppable armored personnel carrier and fire support vehicle
Date Of Introduction
1969
Crew
3 (commander, gunner, driver) + 4 passengers
Combat Weight
8.3 tons (7.5 mt)
Ground Pressure
8.11 psi (0.57 kg/cm²)
Length, Overall
17.74 ft (5.41 m)
Width, Overall
8.3 ft (2.53 m)
Height, Overall
5.3-6.5 ft (1.62-1.97 m)
Ground Clearance
3.9-17.7 in (100-450 mm)
PERFORMANCE
BMD-1
Engine
240 hp (179 kw) diesel
Range
200 miles (320 km)
Road Speed
40 mph (65 km/h)
Cross Country Speed
25-28 mph (40-45 km/h)
Swim Speed
4 mph (7 km/h)
Fording Depth
Amphibious
Grade
60%
Trench Crossing
5.25 ft (1.60 m)
Vertical Wall Climb
2.6 ft (0.80 m)
PROTECTION
BMD-1
Armor
Hull: 0.6 in (15 mm). Turret front: 0.9 in (23 mm) or antibullet
Applique Armor
Available. See VARIANTS
Explosive Reactive Armor
Available. See VARIANTS
Active Protective System
N/A
NBC Protection System
Collective
Smoke Equipment
Vehicle engine exhaust smoke system
ARMAMENT

BMD-1
Type
Mount
Typical Ammo Load
73mm 2A28/Grom smoothbore main gun
Turret; autoloader
40.
HEAT, HE
7.62mm PKT machine gun
Coaxial to main gun
2,000
Two 7.62mm PKT machine guns
Ball-mounted on bow
4,000
9P111 AT-3 ATGM launcher.
MCLOS; wire-guided
Launch rail on main gun; dismountable
4.
AT-3, AT-3A, AT-3B, AT-3C, AT-3C Imp, Malyutka-2, Malyutka HE
Firing ports: 1 on each side, 1 in left rear door

FIRE CONTROL
BMD-1
Fire Control System
?
Main Gun Stabilization
N/A
Rangefinder
Stadiametric
Infrared Searchlight
Yes
NOTES
Since 1973, the BMD (
Boyevaya Machina Desantnaya
) replaced the airborne assault gun ASU-57 in the Soviet airborne forces, substantially increasing the firepower and maneuverability of the airborne division. Originally thought to be a light tank, the BMD may more properly be considered the airborne equivalent of the BMP infantry combat vehicle. Although, it superficially resembles the BMP, it is considerably smaller and except for the turret and main armament, is an entirely new design.
The driver sits front center with commander to the left and bow machine gunner to the right.
Vehicle can be parachute landed with airborne troops onboard. Height can be lowered.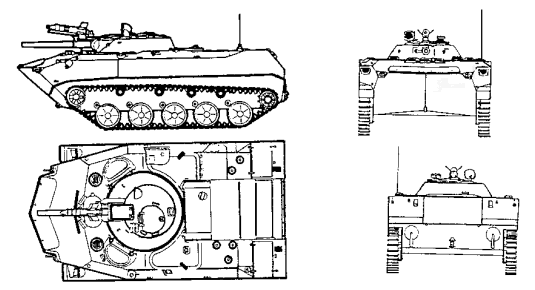 Recognition features:
Tracked vehicle.
Suspension can raise and lower.
Five evenly spaced road wheels with four support rollers (first and fourth support inside of track only).
Boat-shaped hull.
Rear crew compartment.
Flat turret set forward on hull.
Diver's hatch mounted under main gun.
Two hydrojets mounted in rear (amphibious).
Two piece trim vane mounted on top of nose.
VARIANTS
Russian KBP offers a drop-in one-man turret, called Kliver, with a stabilized 2A72 30mm gun, a 4-Kornet ATGM launcher, thermal sights, and improved fire control system. The Russian Volgorod Tractor Plant offers the B30 turret (a drop-in one-man turret with 2A42 30mm gun, 7.62mm coax MG, and a 9P135M launcher for AT-4/-5 ATGM). A Russian AG-17 30mm automatic grenade launcher is available for BMD-1.
Other options are spall liners, air conditioning, and a more powerful engine. A French SNPE explosive reactive armor (ERA) kit and others are available for use on the BMD-1. However, during dismounted troop movement, ERA would be a hazard. Thus, passive armor is more likely; and ERA application is doubtful. For amphibious use, additional armor application is unlikely.
The Slovenian TS-M ATGM thermal night sight has a detection range of 4,500m and a recognition range of 2,000m.
---
BMD-1

1969. Original production model. See data above.

BMD-1K

Command IFV (CIS), with added R-126 and R-107 transceivers.

BMD-1KShM

Command and communications vehicle which replaces BMP-1KSh for airborne forces. It has a raised structure vs turret, six road wheels, a CLOTHESLINE radio antenna, and an AGS-17 AGL

BMD-1M

Variant with improved ventilation and road wheels.

BMD-1P

Widely fielded IFV with AT-4/5 replacing AT-3.

BMD-1PK

Company commander variant (CIS) of BMD-1P.

BMD-2

Widely fielded variant with a 30mm automatic gun and with AT-3 replaced by AT-4/5.

BTR-D / BMD M1979

Stretched (6 road wheels) armored multipurpose transporter variant, with two 7.62mm MGs but no turret. This chassis has been used for a variety of other airborne vehicles.

BMD-1 Photos - Click on image sample to see full size image.