Amphibious Assault Vehicle

GENERAL DATA
AAVP7A1
AAVP7A1 (RAM/RS)
AAVC7A1
AAVR7A1
Country of Origin
USA
Role
Amphibious armored personnel carrier (APC)
Command and control
Maintenance and recovery
Date Of Introduction
1983
1998
1983
1983
Crew
3 (vehicle commander, driver, assistant driver) + 21 passengers
3 + 5 (radio operators) + 5 (unit commander and staff)
5
Combat Weight
28.4 tons (25.7 mt) - troop loaded
29.1 tons (26.4 mt) - troop loaded
26.5 tons (24.0 mt)
26.1 tons (23.6 mt)
Ground Pressure
9.1 psi (0.64 kg/cm²) - cargo loaded
9.7 psi (0.68 kg/cm²) - cargo loaded
7.9 psi (0.56 kg/cm²)
7.8 psi (0.55 kg/cm²)
Length, Overall
26.78 ft (8.16 m)
26.78 ft (8.16 m)
26.70 ft (8.14 m)
Width, Overall
10.88 ft (3.32 m)
10.98 ft (3.35 m)
?
Height, Overall
10.88 ft (3.32 m)
11.83 ft (3.61 m)
?
Ground Clearance
16 in (406 mm)
PERFORMANCE
AAVP7A1
AAVP7A1 (RAM/RS)
AAVC7A1
AAVR7A1
Engine
Cummins VT400: 400 hp (298 kw) 4-cycle, 8-cylinder, 90-degree V, water-cooled, turbocharged diesel
Cummins VTA 903 T 525: 525 hp (391 kw) 4-cycle, 8-cylinder, 90-degree V, water-cooled, turbocharged, aftercooled diesel
Same as AAVP7A1: Cummins VT400
Transmission
Naval sea (NAVSEA) HS-400-3A1. 4 speed forward, 2 speed reverse
NAVSEA HS-525. 4 speed forward, 2 speed reverse
Same as AAVP7A1: NAVSEA HS-400-3A1
Range
300 miles (483 km) - land
7 hours - sea
200 miles (322 km) - land
7 hours - sea
300 miles (483 km) - land
7 hours - sea
Fuel Capacity
171 gal (647 l) multifuel
Road Speed
45 mph (72 km/h)
Cross Country Speed
?
Swim Speed
8.2 mph (13.2 km/h)
Fording Depth
Amphibious
Grade
60%
Side Slope
40%
Trench Crossing
8 ft (2.4 m)
Vertical Wall Climb
3 ft (0.91 m)
PROTECTION
AAVP7A1
AAVP7A1 (RAM/RS)
AAVC7A1
AAVR7A1
Armor
Aluminum armor plate hull.
Ramp outer: 1.000 in (25.4 mm). Ramp inner: .500 in (12.7 mm). Sides: 1.750 (44.45 mm), 1.395 (35.433 mm), and 1.222 in (31.038 mm). Top, Bottom: 1.185 in (30.099 mm). Stern: 1.395 in (35.433 mm)
Applique Armor
Enhanced Applique Armor Kit
N/A
Explosive Reactive Armor
N/A
Active Protective System
N/A
NBC Protection System
N/A
Smoke Equipment
M257 Smoke Grenade Launcher system: two 4-tube launchers (66mm UKL8A1/A3 smoke grenades)
N/A
ARMAMENT

AAVP7A1, AAVP7A1 (RAM/RS)
Type
Mount
Typical Ammo Load
.50 cal M2HB machine gun
Turret
200 ready. 1,000 rounds stowed in 10 ammunition boxes
40mm MK-19 grenade machine gun
Turret
96 ready. 768 rounds stowed in 16 ammunition boxes

AAVC7A1
Type
Mount
Typical Ammo Load
7.62mm M240G machine gun
Pintle-mounted
1,000 stowed

AAVR7A1
Type
Mount
Typical Ammo Load
7.62mm M60D machine gun
Pintle-mounted
400

FIRE CONTROL
AAVP7A1, AAVP7A1 (RAM/RS), AAVC7A1, AAVR7A1
Fire Control System
N/A
Main Gun Stabilization
N/A
Rangefinder
N/A
Infrared Searchlight
N/A
NOTES
The amphibious assault vehicle (AAV) is employed to conduct mechanized operations and related combat support in subsequent operations ashore.

The AAV is capable of open ocean operation from offshore shipping through rough seas and plunging surf; and without modification, it is capable of traversing beaches, crossing rough terrain, and performing high speed operations on improved roads. AAVs provide the ground combat element (GCE) with armor protection as well as land and water operation capabilities.

The AAV was not designed as an infantry fighting vehicle (IFV) and should not be employed as such. It lacks the armor protection, stabilized weapons station, low silhouette, and means for the infantry to fight from the vehicle without exposing themselves to direct fire.

ENHANCED APPLIQUE ARMOR KIT (EAAK)
The EAAK consists of a series of bolt-on armor panels that provide additional armor protection to the vehicle. With the EAAK mounted, the vehicle receives a substantial increase in ballistic protection. The EAAK adds 4,400 pounds (1,996 kg) to the vehicle. The EAAK mounts to the AAVP7A1, AAVP7A1 (RAM/RS), and AAVC7A1 but not the AAVR7A1.
Protection for vehicle side and slope, troop compartment overhead, and slope rack kit for sponson stowage of OEM.
Attachment: boss and joint offset method.
Material: homogeneous harden steel, rubber, mild steel composite.
Boss offset from hull (no armor): 0.75 in per side.
Maximum offset from hull: 8.50 in per side.
No penetration for 7.62mm and smaller weapons at muzzle velocity.
95% probability of no penetration for 12.7mm armor piercing at muzzle velocity.
95% probability of no penetration for 14.5mm at 300 meters.
99% probability of no penetration for 155mm HE at 50 feet.
Substantially decreases the effectiveness of shape charge weapons by reducing the fragmentation debris cone from 110° to 35°.
The EAAK that is currently utilized was fielded in 1991. More then 800 sets of EAAK have been washed out of the system due to corrosion since original fielding. Current projections are for a washout rate of 55 to 75 systems per year. A reprocurement of 661 sets of EAAK with deliveries in 2004-2006 was initiated via a contract with Rafael Corporation. A follow on contract for procurement of an additional 243 sets was issued in FY 05 with deliveries planned for FY06 and FY07 to cover future washouts.
VARIANTS
LVTP7

1972. Combat weight: 26.4 tons (23.991 mt). Crew: 3 + 25 passengers. Road speed: 45 mph (72 km/h). Water speed: 8 mph (13 km/h). Armament: .50 caliber M2HB.


LVTP7A1, AAVP7A1

1983. Modernized and upgunned LVTP7. Unit replacement cost: $2.2 - $2.5 Million (1996). In 1985 the U.S. Marine Corps changed the designation of the LVTP7A1 to AAV7A1.


AAVP7A1 (RAM/RS)

1998. AAVP7A1 engine, transmission, and suspension upgrade. RAM/RS: Reliability, availability, and maintainability/rebuild to standard.


AAVC7A1

1983. Command and control variant. Unit replacement cost: $2.2 - $2.5 Million (1996). Equipped with six very high frequency (VHF), one ultrahigh frequency (UHF), and one high frequency (HF) radio transmitters and receivers to allow secure communications with subordinate, adjacent, and higher units, as well as with supporting arms and logistic agencies. It includes workstations for up to five staff officers and five radio operators.


AAVR7A1

1983. Maintenance and recovery variant. Unit replacement cost: $2.2 - $2.5 Million (1996). Includes a hydraulic, telescoping, boom crane with a 6,000-pound capacity, 30,000-pound capacity recovery winch, as well as cutting, welding, and other portable maintenance equipment.

AAV Photos - Click on image sample to see full size image.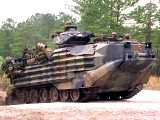 Delta Company, 2nd Amphibious Assault Battalion
Combined Joint Task Force Exercise '96
Camp Lejeune, North Carolina
13-MAY-1996
U.S. DoD Photo by Cpl. A. Olguin
1024x768, 262K, JPEG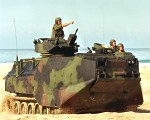 11th Marine Expeditionary Unit
RIMPAC '96
Pacific Missile Range Facility, Barking Sands, Hawaii
15-JUN-1996
U.S. DoD Photo by Petty Officer 2nd Class Jeffrey S. Viano
1024x613, 140K, JPEG

U.S. Marine Corps AAVs
Supporting Arms Coordination exercise
island of Vieques, Puerto Rico
06-AUG-2001
U.S. DoD Photo by Chief Petty Officer Alan Baribeau
1024x1024, 221K, JPEG

26th Marine Expeditionary Unit
Preparing to enter the well deck of
USS Kearsarge
(LHD 3)
Maritime Security Operations
Persian Gulf
23-JUL-2005
U.S. DoD Photo by Airman Sarah E. Ard
1024x1685, 698K, JPEG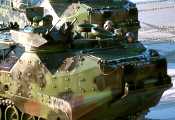 1st Battalion, 6th Marines
Amphibious training
Onslow Beach, Camp Lejeune, N.C.
09-FEB-1999
U.S. DoD Photo by Sgt. Thomas W. Farrar Jr.
1024x690, 199K, JPEG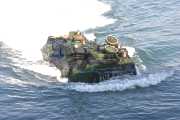 Company B, 2nd Amphibious Assault Battalion, 2nd Marine Division
Ship operation training
USS Whidbey Island off the coast of North Carolina
10-DEC-2005
U.S. Marine Corps Photo by Lance Cpl. Lucian Friel
1024x680, 158K, JPEG