The M88 is an armored, full track-laying vehicle, that performs hoisting, winching, and towing operations in the rescue and recovery of combat vehicles. It also supports medium and light tank units (M88, M88A1) or main battle tanks (M88A2) to effect battle field recovery, and is equipped to assist in repairs of supported vehicles under typical field conditions.
The vehicle is divided into three sections: crew compartment, hydraulics compartment, and engine compartment.
The hull and cab are constructed of cast armor and armor plate welded into a single unit. Armor is distributed to protect the crew and equipment against small-arms fire, medium artillery shell fragments and 20 pound anti-tank mines. Hull bottom armor is equivalent to that of a medium tank. The hull is equipped with an armored, turret-type cupola that provides a mount for a .50 caliber machine gun. The cupola also provides full vision for commander using six prism blocks.
The vehicle is equipped with a main and an auxiliary hydraulic system used for recovery and maintenance operations. These systems power the spade, boom, main winch, hoist winch, refuel pump, and the hydraulic impact wrench. The primary purpose of the auxiliary system is to allow emergency retrieval of hydraulic systems in the event of main engine failure.
The main winch is located near the spade and is used to pull disabled vehicles during recovery operations.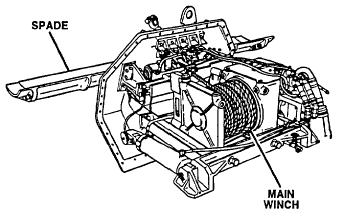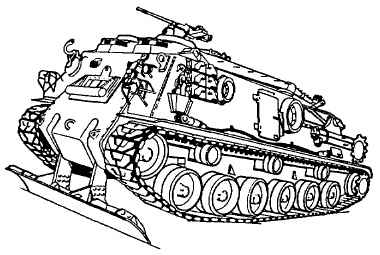 The spade is used during all winch operations and hoisting operations over 6 tons (5.4 mt) to help stabilize the vehicle. The spade may be used for light earth moving and leveling (dozing) for preparation of recovery only.
The hoisting boom works with the hoist winch which is used to lift disabled vehicles and heavy loads for recovery and maintenance operations. The hoisting boom is a modified A-frame located on the top of the vehicle.
The vehicle is also equipped with a main and auxiliary generating system. The primary purpose of the auxiliary system is to charge the vehicle batteries when they are too low to start the main engine.
The exhaust smoke generating system provides a self-screening smoke capability. The smoke generating system allows diesel fuel from the vehicle fuel tanks to be sprayed into the exhaust system. The fuel vaporizes and blends with engine exhaust gases. The fuel vapor cools on contact with the ambient air and condenses to form a homogeneous smoke screen. The system is ineffective when JP-8 fuel is used.