M728 Combat Engineer Vehicle

GENERAL DATA
Alternative Designations
CEV (combat engineer vehicle)
Country of Origin
USA
Role
Battlefield engineer vehicle
Date Of Introduction
1965
Crew
4: commander, driver, gunner, loader
Combat Weight
58.7 tons (53.3 mt)
Ground Pressure
12.8 psi (0.9 kg/cm²)
Length, Boom and Moldboard in Travel Position
29.23 ft (8.91 m)
Length, Boom Erected
30.53 ft (9.3 m)
Width, Overall
12.17 ft (3.71 m)
Height, Lowest Operable
10.69 ft (3.26 m)
Ground Clearance
15 in (381 mm)
PERFORMANCE
Engine
Continental AVDS-1790 series turbosupercharged, fuel injection, 90° "V" type, aircooled, 12-cylinder 750 hp (559 kw) diesel
Transmission
Detroit Diesel Allison CD850 series. 2 speed forward, 1 speed reverse
Range
280 miles (450 km)
Fuel Capacity
375 gal (1,419 l)
Road Speed
30 mph (48.3 km/h)
Cross Country Speed
?
Swim Speed
N/A
Fording Depth
4 ft (1.2 m) unprepared, 8 ft (2.4 m) with fording kit
Grade
60%
Side Slope
30%
Trench Crossing
8.25 ft (2.5 m)
Vertical Wall Climb
2.5 ft (0.8 m)
PROTECTION
Armor
Cast homogeneous armor steel hull and turret
Applique Armor
N/A
Explosive Reactive Armor
N/A
Active Protective System
N/A
NBC Protection System
Gas-particulate filter unit
Smoke Equipment
Engine smoke generator (1980). M239 system (late models): six smoke grenade launchers (66mm L8A1 smoke grenades) on each side of turret.
ARMAMENT

Type
Mount
Typical Ammo Load
165mm M135 demolition gun
Turret - M150 mount; manual loading
30.
HEP
7.62mm M73 or M240 machine gun
Coaxial to main gun
3,600
.50 cal M85 machine gun
Turret cupola
728
Additional armament: M3A1 .45 cal submachine gun with 360 rounds. 12 grenades.

FIRE CONTROL
Fire Control System
Commander's M36 or M36E1 periscope. Gunner's M105F telescope and M32CE1 periscope. Auxiliary M13A3 quadrant and M28E2 azimuth indicator.
Main Gun Stabilization
N/A
Rangefinder
N/A
Infrared Searchlight
Xenon: AN/VSS-2 (2.2 kilowatt) or AN/VSS-3A (1 kilowatt)
WINCH AND BOOM CAPACITY
Hoist
8.75 tons (7.9 mt)
Double capacity when using a double line.
Winch, Direct Pull
12.5 tons (11.3 mt)
Double capacity when using a double line.
Cable
3/4 in (19 mm) diameter, approximately 200 ft (61 m)
NOTES
The M728 full-tracked combat engineer vehicle is designed to provide maximum ballistic protection for the crew and is heavily armed, being a basic M60A1 tank modified to provide a mobile and maneuverable weapon for combat support of ground troops and vehicles. The M728 vehicle is used for breaching, obstacle removal, transportation of demolition teams, and pioneering operations.
Although the M728 consists of a tank hull and a short-barrelled turret, it is not a tank and should not be routinely used against enemy tanks. It is an excellent heavy assault support vehicle when used as part of a combined engineer-infantry team.
The M728 It is equipped with a hydraulically operated dozer blade (moldboard) mounted to the front of the hull. A winch and boom are mounted to the turret for lifting, carrying, and winching. Erecting and stowing the boom are accomplished hydraulically.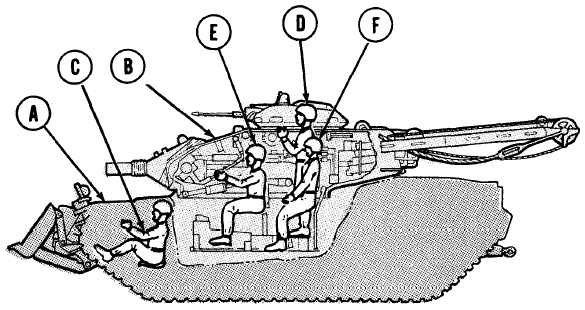 The vehicle is divided into two sections, hull (A) and turret (B). The hull front contains the driver's (C) compartment, controls and instruments. The hull rear contains engine, transmission, fuel tanks, and related automotive parts. The turret (B) has positions for commander (D), gunner (E), and loader (F).
The turret, which fits into the hull opening, is a one-piece homogeneous armor steel casting.
A platform (turret basket) attached to the turret permits the commander, gunner, and loader to traverse with the turret.
Openings provided in the turret accommodate the 165mm combination gun mount, commander's cupola, ventilating blower, antennas, boom and winch hydraulic lines, sighting and fire control components and loader's hatch.
The turret contains electrical and hydraulic controls, communications equipment, sighting and firing controls.
Externally the turret has racks for stowing miscellaneous items such as a 5-gallon water can, cargo and combat packs, towing cables, water fording equipment and the Xenon searchlight.
Internal racks are provided for stowage of items such as periscopes, binoculars, flashlights, canteens, rations, a portable carbon dioxide (C02) fire extinguisher, ammunition, and various hand tools.
A winch-boom assembly is mounted to the turret for lifting, carrying, and winching operations.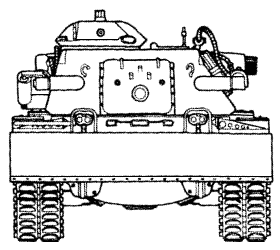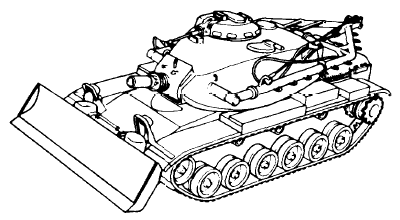 During the Vietnam war, the M728 was used in fire support, base security, counterambush fire, direct assault of fortified positions, and limited reconnaissance by fire. During Operation Desert Storm, M728s were used to augment M1A1s equipped with mine rollers and mine plows.
165mm AMMUNITION
Ammunition for the M135 165mm gun is issued in fixed complete rounds. A complete round consists of all ammunition parts needed to fire weapon once. It consists of an electric primer and propelling charge contained in a cartridge case and a fused projectile. The cartridge case is threaded onto the base of the projectile. The term "fixed" used with ammunition means that propelling charge cannot be changed. A round is loaded into the gun as a unit.
165mm ammunition.

| Model | Type | Length | Weight | Projectile Weight | Primer | Fuze |
| --- | --- | --- | --- | --- | --- | --- |
| M123E1 | HEP | 27.62 in (701 mm) | 65.6 lb (29.8 kg) | 62.5 lb (28.3 kg) | M73 electric | M62A1E1 BD |
| M623 | Training | 27.62 in (701 mm) | 65 lb (29.5 kg) | ? | N/A | N/A |
M123E1 High Explosive Plastic (HEP)

Olive drab with yellow markings and black band.
---
M623 Target Practice (TP)
Blue with white markings.
WEAPON CAPABILITIES
The HEP round is very effective against masonry and concrete targets. The pushing and heaving effects caused by the HEP round's base detonating fuze and large amount of explosive can demolish barriers and knock down walls. One round creates a 1 foot (0.3 m) diameter hole in a 7 inch (178 mm) thick reinforced concrete wall. The round's effects against bunkers and field fortifications are dramatic, often crushing or smashing entire walls.

More M728 Art - Click on image sample to see full size image.
M728 Photos - Click on image sample to see full size image.