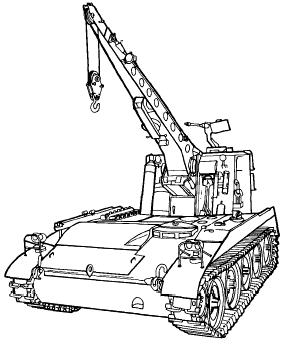 The M578 recovery vehicle is used to pick up or tow disabled mechanized equipment, as a crane at a repair base, and as a carrying platform for spare parts and maintenance personnel.
The M578 recovery vehicle is a light, full-tracked, self-propelled, diesel-powered vehicle with a 30,000 pound (13,620 kg) boom winch and a 60,000 lb (27,240 kg) tow winch mounted in an armored cab. It is highly mobile and maneuverable and may be air transported.
The vehicle is capable of long range, high-speed operation on improved roads. It can also traverse rough terrain, muddy or marshy ground, snow or ice, and can ford streams of a depth of 42 inches (106.7 cm).
A suspension lockout system and a spade assembly provide a stable platform and increase lifting and winching capabilities of the vehicle. Suspension lockout system, boom, winches, cab, and spade are hydraulically powered.
A gas-particulate filter system is used with face masks to protect crew members from toxic gases and dusty conditions. One filter is mounted in the cab on the boom cylinder and a second filter is mounted on the floor board in the driver's compartment.
A machine gun mount support is installed on the rigger/gunner cupola to accommodate a Browning M2 .50 caliber machine gun.