M106 Mortar Carrier

GENERAL DATA
M106
M106A1
M106A2
Country of Origin
USA
Role
Close indirect fire support vehicle
Date Of Introduction
?
?
?
Crew
4 (squad leader, gunner, assistant gunner, and driver/ammunition bearer)
Combat Weight
12.85 tons (11.66 mt)
13.07 tons (11.86 mt)
13.44 tons (12.19 mt)
Ground Pressure
8.2 psi (0.58 kg/cm²)
8.3 psi (0.58 kg/cm²)
8.6 psi (0.60 kg/cm²)
Length, Overall
16.17 ft (4.93 m)
16.17 ft (4.93 m)
16.17 ft (4.93 m)
Width, Overall
9.42 ft (2.87 m)
9.42 ft (2.87 m)
8.81 ft (2.69 m)
Height, Overall
7.25 ft (2.21 m)
8.17 ft (2.49 m)
7.29 ft (2.22 m)
Ground Clearance
16 in (406 mm)
17.125 in (435 mm)
PERFORMANCE
M106
M106A1
M106A2
Engine
209 hp (156 kw) gasoline
212 hp (158 kw) diesel
Range
185 miles (298 km)
295 miles (475 km)
300 miles (483 km)
Fuel Capacity
85 gal (322 l) gasoline
95 gal (360 l) diesel
Road Speed
40 mph (64 km/h)
41.5 mph (67 km/h)
40 mph (64 km/h)
Cross Country Speed
?
Swim Speed
3.5 mph (5.6 km/h)
3.6 mph (5.8 km/h)
Fording Depth
Amphibious with minimal preparation
Grade
60%
Side Slope
30%
Trench Crossing
5.5 ft (1.68 m)
Vertical Wall Climb
2.0 ft (0.61 m)
PROTECTION
M106, M106A1, M106A2
Armor
5083 Aluminum. Protection from small-arms fire (7.62mm and smaller) and fragmentation munitions
Applique Armor
Anti-mine armor on bottom of chassis
Explosive Reactive Armor
N/A
Active Protective System
N/A
NBC Protection System
N/A
Smoke Equipment
N/A
ARMAMENT

M106, M106A1, M106A2
Type
Mount
Typical Ammo Load
4.2-inch (107mm) M30 mortar
Internal turntable mount; manual loading
88 (93 M106). 54 fuzes
.50 cal M2HB machine gun
Commander's cupola; pintle-mounted; belt feed
600

FIRE CONTROL
M106, M106A1, M106A2
Fire Control System
N/A
Main Gun Stabilization
N/A
Rangefinder
N/A
Infrared Searchlight
N/A
NOTES
The M106 carrier is the M113 armored personnel carrier modified to carry the M30 4.2-inch (107mm) mortar on a specially designed turntable mount. It is an armored, full-tracked, self-propelled vehicle that can swim streams and small bodies of water. A .50 caliber machine gun is mounted on the cupola for the vehicle commander's use.

To fire the 4.2-inch mortar from the carrier, the top plating to the rear of the carrier has a mortar-hatch cover, which is hinged and folds to both sides. The carrier provides limited armor protection for the squad during maneuver. In combat, the mortar is fired with the ramp closed and locked. During firing exercises in training, the mortar may be fired with the ramp open for visual inspection by safety personnel.

The mortar and its components can be removed from the carrier for ground-mounted firing. The baseplate, bridge, and rotator assemblies of the ground mount are stowed outside the carrier. A minimum of four mortarmen is required to remove the mortar and standard assembly from the travel position.

Replaced by the M1064A3 120mm mortar carrier in U.S. service.
VARIANTS
XM106 (T257E1)

Prototype M106.

M106

Original production model. The M106 was converted to the M106A1, which was then converted to the M106A2. See data above.

M106A1

Replaced the gasoline-powered engine with a diesel engine. See data above.

M106A2 (NSN 2350-01-069-6931)

"Carrier, Mortar, 107-mm, M30, Self-propelled, M106A2". See data above.
More M106 Art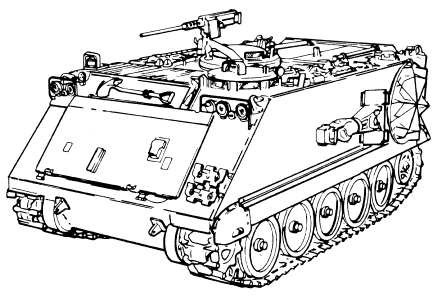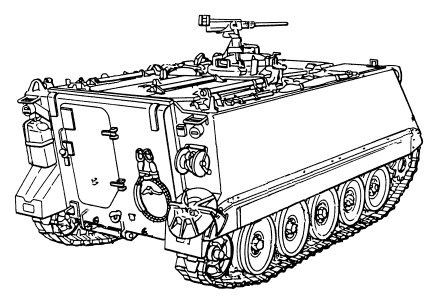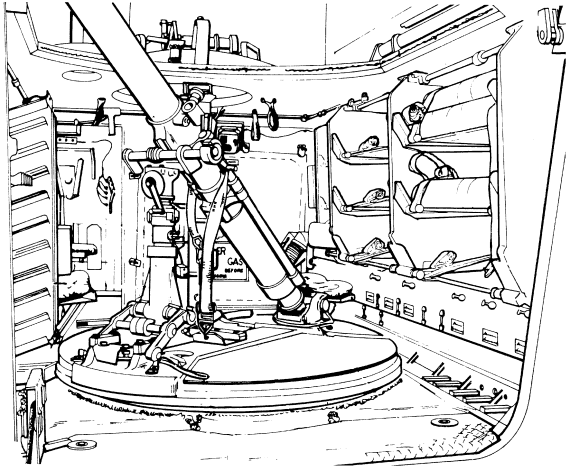 Mortar vehicular mount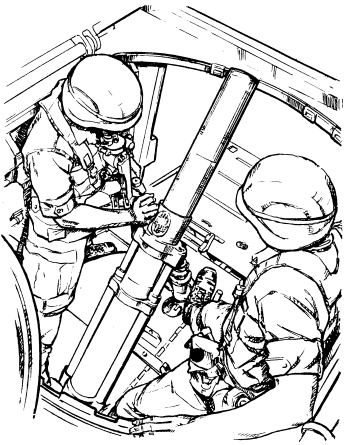 Positions for traversing the turntable
M106 Photos - Click on image sample to see full size image.