Gepard 35mm SP AA Gun System

GENERAL DATA
Gepard
Alternative Designations
5PFZ-B2L, FlakPz 1A2 (upgrade variant)
Country of Origin
Switzerland, Germany
Role
Air defense
Date Of Introduction
1976
Crew
3
Combat Weight
50.7 tons (46 mt)
Length, Hull
23.49 ft (7.16 m)
Width, Overall
10.66 ft (3.25 m)
Height, Radar Up
13.88 ft (4.23 m)
Height, Radar Down
9.88 ft (3.01 m)
PERFORMANCE
Gepard
Engine
830 hp (619 kw) diesel
Range
342 miles (550 km)
Road Speed
40 mph (65 km/h)
Cross Country Speed
?
Swim Speed
N/A
Fording Depth
7.4 ft (2.25 m)
PROTECTION
Gepard
Armor
1.6 in (40 mm)
Applique Armor
N/A
Explosive Reactive Armor
N/A
Active Protective System
N/A
NBC Protection System
Yes
Smoke Equipment
8 smoke grenade launchers
ARMAMENT

Gepard
Type
Mount
Typical Ammo Load
Two 35x228mm KDA cannons
Turret; Twin belt feed
680
HEI, HEI-T, SAPHEI-T, FAPDS (for upgrades), APDS-T, APFSDS-T

FIRE CONTROL
Gepard
Fire Control System
EADS digital computer-based
Main Gun Stabilization
Fire on move
Rangefinder
ND Yag (1.06µ) laser
Infrared Searchlight
N/A
Radar
Siemens manufacture target acquisition
Detection Range: 9.3 miles (15 km)
Frequency Band: S
Search on the Move: Yes
Radar
Target tracking
Detection Range: 9.3 miles (15 km). Tracking Range: 9.3 miles (15 km)
Frequency Band: Ku
NOTES
Uses a Leopard 1 tank chassis. Auxiliary power unit has 90hp (67 kw) engine.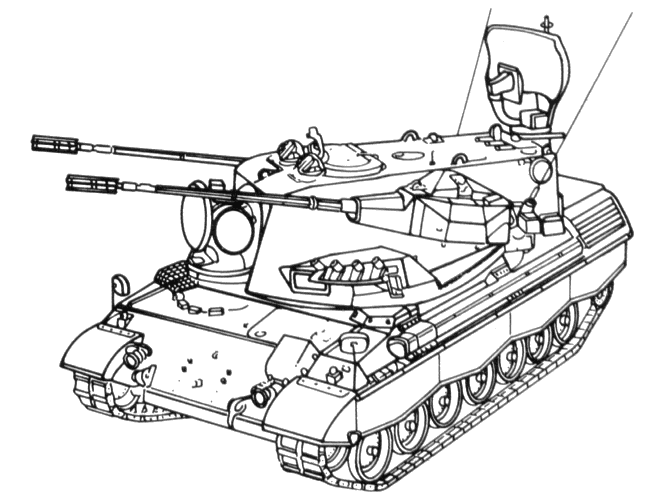 VARIANTS
KMW is developing an upgrade with 2x Stinger MANPADS missile launchers added to a gun, and integrated with the FCS.
---
Gepard 1A2

Upgrade variant with new FCS, including stabilized thermal sight and video auto-tracker, integrated C2, increased range, reduced reaction time, and FAPDS ammunition.

Gepard CA1

Dutch variant (also called 95 Cheetah) uses Signaal I-band MTI radar and dual I-band K-band tracking radars.

PRTL-35mm GWI

Upgrade Dutch variant, with upgrades similar to 1A2 and new radios, but with different radars. Range with FAPDS is claimed to be 3,500-4,500m.